News
Over a million Danes battling hay fever
---
This article is more than 6 years old.
Some 100,000 suffer from pollen allergies in Copenhagen alone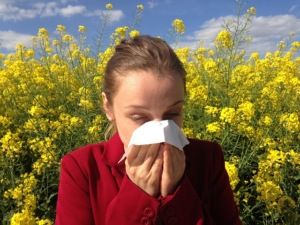 Whether its birch, grass, hazel or elm pollen, there are loads of hay fever sufferers in Denmark – over a million actually – and right now they are suffering through the annual allergy season.
In a bid to raise awareness about pollen allergies and the connection to asthma, the asthma and allergy organisation Astma-Allergi Danmark (AAD) has launched its new 'Snot or not' campaign.
As part of the campaign, AAD has unveiled a new interactive map that reveals the number of pollen allergy sufferers in every municipality in Denmark.
Copenhagen is the clear 'winner' with a total of 99,369 pollen allergy sufferers. Aarhus, Odense and Aalborg also had high numbers.
But what's not so obvious to many is that about 30 percent of those who suffer from hay fever also have asthma.
"Over 1 million Danes have hay fever. However, many are not aware that hay fever is often connected with the lung illness asthma," said Anne Holm Hansen, the deputy head of AAD.
"The symptoms aren't just in the head, but also in the lungs in the form of breathing difficulties, feeling out of shape, coughing and chest pressure."
READ MORE: Hay fever sufferers beware: birch pollen season starts in Denmark
Spring sucks
The figures reveal that a pollen allergy worsens the quality of life for 42 percent of hay fever sufferers, and hay fever patients can experience a quality of life on par or worse than people suffering from diabetes and cardiovascular disease.
And while every third hay fever sufferer experiences significant bother during the allergy season, over 40 percent have never been diagnosed.
"It you have hay fever, the risk of getting asthma is greater, and if you have asthma, you often also suffer from hay fever. So both are very serious," said Hansen.
"If you experience symptoms stemming from a pollen allergy, you should always contact your doctor so you can receive the right treatment," said Hansen.
"That's the prerequisite for living an active life that is symptom-free most of the time."