News
Denmark in the middle of the EU pack in suicides
---
This article is more than 6 years old.
Eastern European nations, particularly the Baltic states, tended to have a higher suicide rate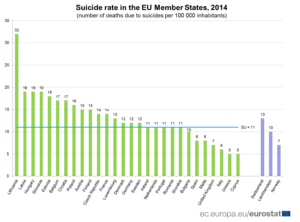 According to new figures from EU stats keeper Eurostat, Denmark is close to the EU average when it comes to the number of suicides that take place per capita.
In 2014, a total of 12 people per 100,000 committed suicide. In 2015, the figure was just above the EU median of 11.7 per 100,000.
"Out of the 4.9 million deaths reported in the European Union (EU) in 2014, 58 000 (1.2 percent) were due to intentional self-harm," Eurostat wrote.
"Almost eight in ten suicides (77 percent) were committed by men and about half (48 percent) by a person aged between 40 and 65."
READ MORE: Suicide numbers way down in Denmark
Lethal Lithuania
Newer Danish figures from Denmark's stat keepers, Danmarks Statistik, revealed that the number of suicides dropped slightly from 629 in 2014 to 564 in 2015. The figures also showed that the vast majority of Danes taking their own lives were men at about 69 percent.
The nations with the most suicides per capita tended to be eastern European nations, with the Baltic states all scoring high. Lithuania easily led the way with 32 suicides per 100,000 citizens, followed by Latvia, Hungary, Slovenia (all 19 per 100,000) and Estonia (18 per 100,000).
The area of Europe with the lowest suicide rates tended to be in the south, with Cyprus and Greece (5 per 100,000) and Italy (7 per 100,000) leading the way. Other Nordic nations included Norway (7 per 100,000), Sweden (12 per 100,000) and Finland (15 per 100,000).