News
Greenland complains to UN over clean-up after US military bases
---
This article is more than 6 years old.
The simmering row between Greenland and Denmark over the responsibility for cleaning up after US bases on the island continues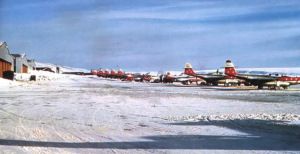 The Danish government has been reported by Greenland to three different UN instances for reneging on its responsibility to clean up after the US military presence.
Denmark has been accused of neglecting its responsibilities but also for not ensuring that Greenland has received adequate financial recompense from hosting the Thule base in northwest Greenland.
READ ALSO: Greenland threatening to drag Denmark and the US in front of the UN
The complaints were delivered to the UN Human Rights Council's special rapporteur in April.
Doing the right thing
"This is about getting the Danish Government to treat Greenland correctly. We've been asking for answers for 4 years. That is the essence," Vittus Qujaukitsoq, who until recently, was a member of the Greenlandic provincial government, told Information newspaper.
The Danish ambassador to the UN in Geneva, Carstan Staur, confirmed that he had passed on Greenland's complaints to the rapporteur for indigenous peoples, among others.
This is the first time that a disagreement between Denmark and Greenland has been brought before the UN.