News
Denmark fails in WHO report regarding underage drinking
---
This article is more than 6 years old.
Low age limit and easy access among the main detractors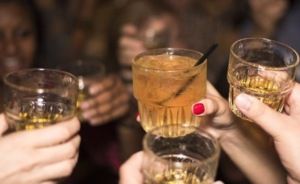 When it comes to young people drinking alcohol in Europe, no nations can compare themselves with the Danes. Mostly, that's due to a low age limit and the easy access to spirits, wine and beer.
READ MORE: New mobile app to combat underage smoking and drinking in Denmark
According to a new World Health Organization report that investigates alcohol culture in the EU, Denmark scored a measly six out of 100 when it comes to alcohol accessibility. Only Switzerland and Germany scored worse.
In a Nordic comparison, Sweden scored 77, Norway 70 and Finland 93. In all three countries, government-owned liquor stores are the only retail outlets permitted to sell alcoholic beverages that contain more than 3.5 percent alcohol by volume.
In Denmark, meanwhile, people can buy any kind of alcoholic beverage in shops and kiosks at all hours of the day.
"I find it quite alarming. We have known we have a relatively relaxed alcohol policy and we ranked high for accessibility, but it's new to be rated so poorly as we are currently," Pernille Bendtsen, the head of secretariat at the prevention council, Vidensråd for Forebyggelse, told DR Nyheder.
READ MORE: Danish government would allow minors to serve alcohol
No political will
Denmark's low age limit also plays a huge role. Danes can buy moderate-strength alcoholic beverages such as beer at the age of 16, while it's 18 in Norway, Sweden and Finland. Young people have to be 20 to buy strong alcoholic beverages, namely spirits/liquor, in all of the Nordic nations bar Denmark, where it's just 18.
The WHO report also found that every third youngster aged 15-16 has been intoxicated within the last month – a clear European record and almost three times higher than the EU average.
Vidensråd for Forebyggelse has called upon the politicians to take action and raise the age limit for alcohol. However, there is currently limited political will in the halls of Christiansborg, where neither the Venstre or Socialdemokratiet parties are keen.
"Politically, we don't want to introduce tougher regulations or more bans than necessary," Flemming Møller Mortensen, the spokesperson for Socialdemokratiet regarding health issues, told DR Nyheder.
"We like it that people can be free to make some decisions on their own."