News
Danish project really may give eyesight to the blind
---
This article is more than 6 years old.
A research project at the Danish Technical University could greatly improve the quality of life for blind people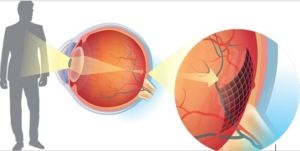 What do solar cells and blindness have in common?
Rasmus Schmidt Davidsen, a post-doctoral researcher at Danish Technical University (DTU), hopes to develop an implant containing thousands of small isolated solar cells that can be placed behind the retina of blind patients to give them their sight back.
There are over 2 million people worldwide who are blind because the photoreceptors in their eyes don't work properly. The function of photoreceptors is to absorb light and send electronic impulses to the brain. When the patient doesn't receive these impulses, he or she experiences blindness.
READ ALSO: The Danish app that lends eyes to the blind
Davidsen explained that the eye's photoreceptors behave very much like solar cells, so the team got the idea that they could use some of the expertise that he has from the field of solar cells to make a chip for blind people. Each solar cell would be the equivalent of 1 pixel in the artificial vision they are trying to create.
Getting enough light
One of the first challenges is to get enough power from natural light.
"Even the best solar cells are unable to generate enough power based on natural light," said Davidsen.
"We are also limited to an area of 3 x 3 millimetres into which the surgeon can insert the chip. We can't even use the entire area because there also has to be electrodes and holes so that tissue fluids can flow freely into the eye."
The light problem has fortunately been solved by other researchers who found that, for example, the light source can be installed in glasses such as those used in Google Glass.
At the moment, the team are working with fresh eye tissue from pigs supplied by Danish Crown. "At the moment, we're working on the first prototype implant. Time will tell whether it will be possible to detect a reaction from the nerve cells from the pig's eyes."
A promising but challenging project
A senior doctor and clinical professor at the eye department of Aarhus University Hospital, Toke Bek, who is co-operating with DTU, has high hopes for the project but can also see many challenges ahead.
"One of them is biocomplexity. It is quite likely that the tissue will reject foreign bodies, especially in the eye. But nano-technicians can make an implant that can be encapsulated into material that the tissue can't easily reject. And they can make it very small."
He added that the solar cells are able to make use of nearly 100 percent of the light.
"All in all, it makes sense to continue work on the project. There are considerable advantages working in co-operation with DTU," Bek added.