News
Aid organisations under pressure as Mosul end-game nears
---
This article is more than 6 years old.
Resources are running out and as Ramadan approaches, the international coalition forces are stepping up their efforts to liberate the city of Mosul from Islamic State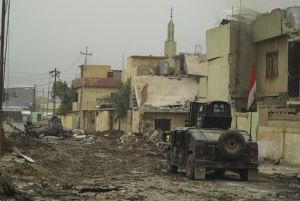 The Danish aid organisation Mission East estimates there are around 200,000 people trapped in the old town.  Islamic State (IS) remains strongly concentrated there as a result of being driven out of other parts of the city in 2014.
"The more people we can prevent from fleeing, the less pressure there will be on the vast UN refugee camp systems that house hundreds of thousands of refugees," aid co-ordinator Knud Andersen of Mission East told Metroxpress.
READ ALSO: Danish aid going to help alleviate Mosul
He added that the coalition forces intend to finish their mission before Ramadan, and if 200,000 people flee the town over the coming week, it could go very badly wrong.
The organisation also says the UN aid efforts are "hopelessly underfinanced" with "only 28 percent of the money that they need".
The risk of snipers
Local drivers are hired to drive into the old town in small pick-up trucks. According to Andersen, the larger distributors often become the victims of snipers.
"We use a method with small trucks that can come in anonymously. Ideally, the whole operation should be over in under an hour," he said.
One of the trucks can carry enough to cover the needs of 50 families for a month.
It has sometimes been necessary to ask coalition forces for assistance in suppressing IS snipers, but to do so without carrying out air attacks whilst the trucks are taking in aid.
"It doesn't make sense to distribute aid where gunfire might put local people at risk when they are trying to collect the packages," Andersen stressed.