News
Denmark welcomes new WHO boss
---
This article is more than 6 years old.
Tedros Adhanom Ghebreyesus will be the director general for the next five years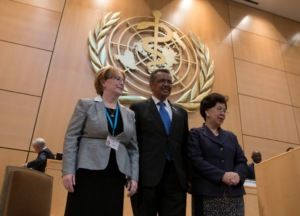 The Danish government has welcomed the news that Tedros Adhanom Ghebreyesus will be the next director general of the World Health Organisation (WHO).
Ghebreyesus, the former foreign minister of Ethiopia, will take charge on June 1 and replace Margaret Chan, who has held the top position since 2006.
READ MORE: Analysis: Copenhagen and Paris in lead for EMA relocation
Hurdles abound
A number of Danish minister, including the development minister, Ulla Tørnæs, and the health minister, Ellen Trane Nørby, offered their congratulations, but were also quick to point out the challenges the WHO can help subdue.
"The Ebola epidemic in 2014 showed the important global role the WHO plays. Health is essential for development and we need a significant lift in health systems, particularly in Africa," said Tørnæs.
"From a Danish perspective, we would like the WHO to get more involved in terms of sexual and reproductive health, particularly when it comes to access to birth control for young people. Population growth is still very high in certain nations and to help the new big generations of young Africans escape poverty, it's critical that they themselves can decide if, when and how many children they want."
The ministers also took the opportunity to thank Chan for her many years of service.
The regional European headquarters of the WHO is situated in Copenhagen and is one of six regional offices around the world.