News
Pia Kjærsgaard to remarry … although the groom's got a familiar face
---
This article is more than 6 years old.
Speaker of the Danish Parliament to mark her golden wedding anniversary with a big celebration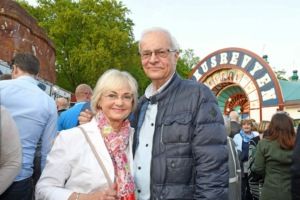 Pia Kjærsgaard, the 70-year-old co-founder and former leader of Dansk Folkeparti who is now the speaker of the Danish Parliament, is getting married again!
But hold onto your hats, as it's to the same fella.
To mark their golden wedding anniversary this summer, Kjærsgaard and her husband Henrik Thorup are renewing their vows in a church and holding a party.
A brief hiatus
The marriage hasn't been always plain sailing.
In an interview with Femina magazine in 2013, Kjærsgaard revealed how she got the urge to rediscover her youth after having two children and left her husband for six months.
"It was a familiar story of two people who had been married for some years, like it happens so often, and many might get divorced," she said.
"The six months enabled me to discover I was still an attractive woman, but the situation was not sustainable. It was fun while it lasted. And then it was not so fun anymore."
Kjærsgaard duly returned to her husband, and the couple now have four grand-children.