News
News in Digest: The poison on the pages
---
This article is more than 6 years old.
Is too much information a bad thing – or is death really lurking behind every corner and headline?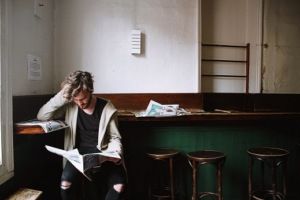 It can be perilous reading the newspapers and trying to stay alive. Believe every story you read, and it's a wonder you make it through the day.
In the last three weeks, we've been told the bacteria in our intestines could kill us, that our tattoos could poison us to death, that a fondness for hair of the dog means you're probably an alcoholic, and that you could be among the 40 percent of the nation's 1 million hay fever sufferers who have never been diagnosed.
HPV concerns
A case in point is the hysteria concerning the HPV vaccine, a jab that will ensure young women won't contract a STD that can cause health problems, including genital warts and cervical cancer.
Many parents are concerned by reports of side-effects – over a thousand but comparatively a drop in the ocean – which has resulted in only 17 percent of Danish girls born in 2003 being fully vaccinated, compared to 73 percent in Sweden and 84 percent in Norway.
"Parents lack knowledge about the disease and its side-effects. On the basis of this, we would like to release more information," Ulla Axelsen, the chief physician at Kræftens Bekæmpelse, told TV2 News.
Spotting fake news
Fortunately help is at hand from the Danish IT firm CIMA Technologies, which uses big data to warn the rest of us about fake news, alternative facts and disinformation.
"At CIMA, we reboot the truth," said Mogens Nørgaard, the CEO. "Our team of experts consisting of designated coders, data geeks and top business people shed light on fake news and manipulation and reveal the art of uncovering truth in data."
READ MORE: Danish IT firm battling fake news and lies using data
Targeting the young
Also helping out are the developers of Smart ID, a mobile app that could eradicate the problem of underage teenagers buying cigarettes and booze.
Fourteen different players from different sectors such as business, trade unions, interest organisations and producers have combined their efforts to launch the app, which can be presented by the purchaser to verify their age.
Under-18s are not permitted to buy tobacco products in Denmark, although there is no law prohibiting them from smoking.
Hair of the dog perils
Still, teenagers are always going to be able to get their hands on alcohol, but let's hope they don't develop a dependency.
According to a study by Statens Institut for Folkesundhed, people who suffer from bad hangovers are twice as likely to become alcoholics because they are more likely to drink again – the hair of the dog option – to relieve the symptoms.
Beware of tattoos
Too much alcohol, of course, could result in an unwelcome tattoo. Some 20 percent of Danes have one – up from 12 percent in 2009 – and now it emerges they are potentially dangerous, according to author Yael Adler, who calls them "ticking poison-bombs" that can lead to malignant melanomas.
"These days, we are exposed to so many kinds of toxins and it is difficult to say which of them might cause cancer or diseases of the immune system," he told Metroxpress.
"Once the colours have been injected under the skin, they never come out again. None of our organs can break down these colours, and they can contain all sorts of toxins and heavy metals."
READ MORE: Getting inked can seriously damage your health claims expert
The killer within
If you think that's bad, then listen up! Every third person carries antibiotic-resistant bacteria in their intestines that could potentially kill them, reports Videnskab.dk.
The bacteria is harmless in the intestines, but potentially deadly in other parts of the body where it can cause infection. Patients recovering from operations are most vulnerable.
In related news, the number of novovirus infections could be reduced thanks to research by the Statens Serum Institut, the national disease control laboratory, which should enable experts to contain major outbreaks.