News
Regional News in Brief: Island passports a great success
---
This article is more than 6 years old.
In other news, there are improved broadband connections in Zealand, an escaped crocodile in Bornholm and a new motorway stretch opens in Jutland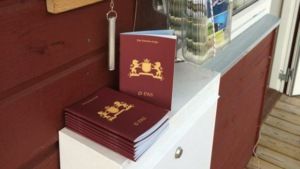 Last year, the confederation of small islands in Denmark, Sammenslutningen af Danske Småøer, launched a special 'island passport'.
This year, they have printed 200,000 of them – quite a hike from the 70,000 in 2016.
The passport is given out free on nearly all the ferries connecting the 37 islands participating in the scheme, with the intention of making it more attractive to settle on the islands, DR Nyheder reports.
Each island has its own page for information and stamps.
"We hear from the islands that tourists come because they've seen the island in the passport," explained the confederation's island ambassador, Britta Leth.
"It is the adults who seem most keen on them and think it exciting to see who can get stamps from all the different islands."
Of the 200,000 passports printed this year, 130,000 have already been given away.
Better broadband connections in Zealand region
Region Zealand has been lagging behind when it comes to broadband speeds, but now things seem to be moving in the right direction, DR Nyheder reports.
A recent report shows that 77 percent of households in Region Zealand have access to broadband with a download speed of at least 100 Mbit/second and an uploading speed of 30 Mbit/second or more.
"I'm glad that [Region Zealand] has caught up somewhat with the headstart that the other regions have had," said the climate and energy minister, Lars Christian Lilleholt.
The minister pointed out that it is vital that internet connectivity is good in order to run firms efficiently and attract people to live in the area.
Never smile at a crocodile
A person out with their child on Sunday afternoon near the Gudhjem swimming baths on Bornholm must have thought they were seeing things.
Police report that they received a call from the pram-pusher saying that a small crocodile was loose in the area.
The 'crocodile' turned out to be a young dwarf caiman, and although police have contacted the animal's owner, it had not yet been found as of Monday morning, TV2 Nyheder reports.
Dwarf caiman eat fish and insects and usually live in a terrarium. The missing animal is 50 cm long with a body about 4 cm in diameter.
It is not dangerous, but police recommend the public should not try to catch it themselves or put a finger in its mouth.
New stretch of motorway opened in Jutland
Commuters have an extra 10 km of new motorway at their disposal around Herning.
The stretch was officially opened on Sunday, and it is expected that 9,000 people per day will use it, Ekstra Bladet reports.
The motorway stretches 10 km west of the city. Later on, it will be joined to the planned Holsterbro motorway to the north and to Route 15 to the south.
"The motorway creates a safe traffic artery to the new regional hospital in Gødstrup, which will be of great benefit to patients, relatives and staff," explained the transport minister, Ole Birk Olesen.
"When the completed motorway opens next year, you will be able to drive from northwest Jutland all the way into Europe on it. That will provide growth opportunities for business, which will lead to the commercial development of the whole region," the minister added.