News
Vesterbro edges out Nørrebro 24-20 in Distortion arrest tally
---
This article is more than 6 years old.
Copenhagen's west end wins the battle of the streets with more violence, urination and narcotics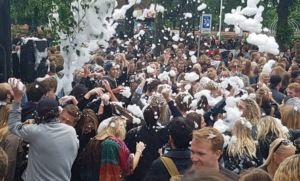 The authorities arrested 24 individuals in connection with the Distortion festivities in Vesterbro on Thursday, taking this year's overall tally up to 44.
READ MORE: Who is … Distortion founder Thomas Dalvang Fleurquin?
Distortion organisers estimate that Thursday's party brought around 85,000 revellers to the streets of the city district, and most were well behaved.
An estimated 80,000 attended the Nørrebro street party on Wednesday.
No serious offences
Most of the arrests were related to common festival offences, such as drugs violations and public disruption though four individuals were detained for inciting violence.
Eleven of those arrested were due to appear before a judge on Friday.
"I would not describe any of the cases as serious," said duty officer Henrik Stormer, according to TV2.
Urinating on the street was particularly frowned upon this year, with the police issuing multiple fines to offenders.
Only halfway so far
The Distortion street party festival will continue through the weekend, but there will be no more free entry street parties.
Distortion Ø, a two-night club event, will take place on Refshaleøen on Friday and Saturday, followed by an afternoon of 'Hygge' on Sunday.
Check out the schedule here.