Things to do
Find out why everybody loves that man … Bugsy Malone!
---
This article is more than 6 years old.
City slickers! He will charm you with a smile and a style all his own at this English-language Scene Kunst Skoler production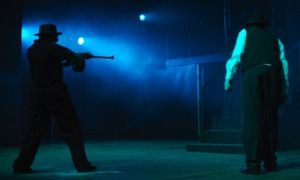 Children's musical theatre has its limits – for starters you can forget about Barry White impressions! And then there's the believability. So this 12-year-old's going to play Fagin? There's picking pockets, and then there's stealing from the entire audience.
But fortunately there are a few productions where the make-up department can rest easy they're not going to run out of grey skin tone. 'The Lord of the Flies' is one example, although its suitability for young audiences is questionable, and another is Alan Parker's 1976 movie 'Bugsy Malone', a popular choice as a school musical ever since.
Splurging required
Staging it doesn't have its problems, though. Like how are you going to recreate the iconic splurge guns that rival gangs use to fire custard cream at one another?
And all those miniature Prohibition Era suits and hats – it's a wonder there isn't a company somewhere that entirely specialises in providing props for the show.
From Bumble to Bugsy
The brave man in charge for two English-language performances at Albertslund Teater in mid-June is Russell Collins, the co-owner of Scene Kunst Skoler, which teaches children in the art of singing, dancing and acting for a career on the stage at various locations in Zealand.
Following his success with a Danish-language version of 'Oliver!' last year, director Collins is again offering tickets to the public to see their international school's version of the rip-roaring musical.
For fans of 'Bugsy Malone', this is a real treat, and for everybody who doesn't know his name, nobody's gonna treat you finer all year!