News
Finding his place in a city whose heart he fills with music
---
This article is more than 6 years old.
Among singer-songwriters on the Copenhagen scene, Brett Perkins has become the go-to performer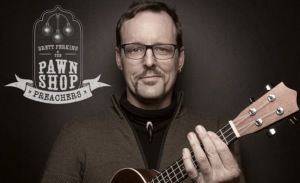 It's not so often that you'll hear the distinctive twang of American country music in the middle of Copenhagen. If you do, then, there's decent odds that it's coming from singer-songwriter Brett Perkins.
A Southern California native, Perkins has been making music in Denmark since the late '90s, and he has since helped to foster growth and involvement in Copenhagen's independent music scene.
Perkins is currently trotting the globe on an international tour in anticipation of his upcoming album, 'Stick a Fork In Me, I'm Done'. CPH POST caught up with Perkins via email to talk music, community and a life abroad.
How did you get started with music? Has it always been your career?
My mother said I sang more than I spoke as a small child, and I began writing in rhyme from the first grade. I recall dreaming of being a popular singer from the age of five, possibly earlier, and I used to practice my 'interviews' while mowing the lawn at my grandmother's house at the age of nine. From then on, I was certain this was the path for me – though that path, like many, turned out not to be a straight line.
What brought you to Denmark?
The weather of course. Like many foreigners, I met a beautiful Dane and followed her home.
As an American, how was it transitioning to a new country and culture?
It was an overwhelmingly positive experience for me, given Danish society's commitment to arts and culture, strong artist unions and guilds, widespread music education and advanced social support. This support allowed me to become a parent here – which, given the terrible disparities and costs in American healthcare, isn't something I would have been able to responsibly choose back home.
Was there anything new or unfamiliar about performing in Denmark in contrast to the United States?
The treatment by Danish venues was much better, as was the payment. At that time, the culture house venues weren't overly concerned with the artists' ability to draw an audience, because the performance was appreciated for its cultural value. That's changed over the years due to shifting economic conditions, but I still find a higher value placed on original works here.
What was it like to have to break into a new music scene here in Denmark?
I was told when I arrived that there was no singer songwriter scene: so I built one, bringing the Listening Room Concert Series concept to Denmark in 1997.
What is the Listening Room Concert Series?
I founded the Listening Room Series in 1993 in Los Angeles to create a space where the song and singer were the focal point of the room, with dedicated listening, which I feel provides a more powerful experience for both audience and artist.
The series ran as a monthly event in Los Angeles from 1993-2005. It began in Denmark in 1998 shortly after I started becoming a regular visitor. It went on to present many young, not yet well-known songwriters including Thomas Buttenschøn, Tina Dickow, Mads Langer, Teitur, Annika Aakjær and more.
The concept expanded in 2002 with the introduction of Listening Room International Songwriting Retreats in several countries, which currently include Estonia, Denmark, Greenland, Ireland, Italy, Sweden and the US.
Would you say the independent singer/songwriter scene in Copenhagen has changed over the nearly two decades you've been here? If so, how?
There's been a great deal of change due to the cyclical nature of things, starting from no scene to speak of in the mid-90s, to a renaissance period resulting in as many as seven separate weekly showcases, now reduced to five, which is still a very active scene for the size of the city. Copenhagen still has one of the top performing songwriter scenes in Europe.
The biggest plus in my view is the sense of community that has evolved and continues via the Copenhagen Songwriters Festival, Cph Listening Room Open Stage and other events. The major difficulty has been the continued erosion of the tariff system, diminished though reduced cultural funding.
After the release of your upcoming album, what do you hope for the future of your music career?
I suppose there's always a mix of excitement and hope of greater commercial success with a new album, and I believe 'The Pawnshop Preachers' is the most enjoyable and accessible of my projects yet, alongside the duo in which I perform with my life partner Magali Michaut. Expect a new album from Michaut/Perkins in the next year or so.