News
No, not David Brent … this Danish company is Europe's most fun workplace
---
This article is more than 6 years old.
At a ceremony in Paris on Thursday evening, Danish IT-consultants Pentia were awarded the Great Place to Work's special prize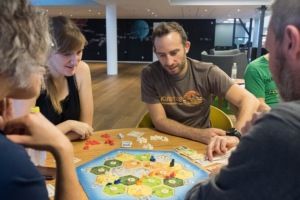 The traditional view has always been that 'work and play don't mix', but it appears that they can and do.
As proof of this, global research and consultancy organisation Great Place to Work has just awarded a special Culture of Fun prize to the Danish IT consultancy company Pentia.
Mirrored in the workplace culture
Along with hundreds of other companies, Pentia took part in the yearly survey carried out by Great Place to Work in which employees filled out a comprehensive anonymous questionnaire to evaluate levels of trust, pride in the company, and fellowship in the workplace.
READ ALSO: Danish companies among the top places in Europe to work
Ditte Vigsø, the managing director at Great Places to Work, said that "at a time when great flexibility is required by both organisations and employees, it is important that employees can see themselves reflected in the working culture, and they can do that at Pentia."
Fun before profits
Jakob Stampe, Pentia's CEO, said that "Pentia did not come into the world to make the greatest amount of profits, but to create a workplace where it is fun to work."
The company, who deliver full-service IT solutions to public and private firms, was awarded the prize for developing a very special community culture that is sustained by fun, communal responsibility and respect.
For example, every Friday, half the day is set aside for knowledge-sharing, updating and play. Also, twice a year, the company closes to allow the employees to play computer games.
Lounge areas are situated around the workplace and there is an arcade room, Play Station, table football, table tennis and a Lego playing area.
A rich social life
The company is also characterised by a number of social arrangements – with and without families. For example, on Shrove Tuesday employees come to work in costume.
Christmas parties include partners and an overnight stay in a hotel, and the proximity of the company to Islands Brygge harbour swimming baths allows employees to take a refreshing dip as a welcome break from their computer screens.
Most of the employees at Pentia work 37 hours a week, with flexible hours and compulsory time off for overtime worked. The idea is to reduce stress.
"Having fun at work is only a part of having fun in life. The most important events in a person's life generally take place outside the workplace. That's why it is so important to offer employees flexibility," said Stampe.
Healthy finances as well as healthy workers
"We also recognise that without making money, we won't survive, but we think that if employees and customers have a daily dose of fun – and that spirit permeates everything we do – then the money will automatically follow," Stampe emphasised.
So far he has been proved right, as the company has made a profit every year since it was established in 1998.