General
At Cinemas: The stabilisers have gone, but this wheel's in safe hands
---
This article is more than 6 years old.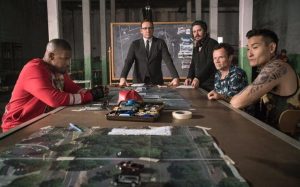 Were this month's cinema releases picked with the UK General Election in mind? 'All Eyez on Me' – sounds like most politicians today … it's all about them and their careers, while most of us are an inconvenience, sitting with Winston Smith at 'Table 19'. 'Baby Driver' – pretty much any party leader these days in the face of terror – 'It Comes at Night' alright. And you can forget about 'The Sense of an Ending' – with Brexit around the corner this isn't even the end of the beginning.
Hardly inspiring
Now normally being judgmental serves me well. I went out on a limb to say that King Arthur: Legend on the Sword was going to be rubbish – it was either going to cost Guy Ritchie his career or mine – but I would have been hard-pressed to guess the same this month, particularly given the releases' insipid titles.
'It Comes at Night' is straight from the pen of an executive who knows what American teenagers did last summer and will do every year in perpetuum. While 'Baby Driver' sounds like the cheap animation tale of a two-year-old drawn by a two-year-old – an infant whose head is five times the size of the rest of his body, looks like Bruce Willis and is probably voiced by him too.
So blow me down if they aren't the only films worth seeing in June – a month that for all our sakes is normally better off spent outdoors if only Thor and his (mostly perverted) brethren could arrange it for us.
Hot rods, no fuzz
Satire is as dead as the Paris climate deal thanks to Trump, so maybe that's why Edgar Wright has started making the kind of films he was only previously brave enough to parody. Let's face it, Shaun of the Dead would have stood just fine as a horror without the comedy, ditto Hot Fuzz as an action film, while The World's End … well that didn't really work on any level.
In Baby Driver (81 on Metacritic; released on June 29), Wright can finally apply his trademark whip pans and crash zooms, normally reserved for mundane tasks, to sequences worthy of his expertise. The result is a taut homage to heist films starring Ansel Elgort (Divergent, The Fault in our Stars) – an actor whose name we've never remembered because our kids like his films so they must be rubbish – as a getaway driver who gets in too deep with a mysterious criminal (Kevin Spacey).
With strong support from John Hamm and Jamie Foxx (James Caan, Jake Gyllenhaal and Kirsten Wiig were too busy to appear), this is worth a trip to the flicks even if it is 25 degrees-plus outside.
Horror's coming back
When your continuity treadmill's broken, turn to the weather and let the reader know that It Comes at Night (80; June 15) is worth dedicating some serious daytime to.
Half the battle when you've got a horror film to cast is persuading actors of repute to join you, but the tide appears to be turning thanks to the likes of The Babadook, It Follows and last month's The Witch.
With the likes of hot Aussie property Joel Edgerton and US actress Riley Keough (The Girlfriend Experience – soon to be seen in Lars von Trier's The House that Jack Built; top trivia: she is Elvis Presley's eldest grandchild), it has the necessary gravitas to make this tom-foolery believable for the one to two hours necessary to build suspense.
He's Blair and I'm Biggie
The other three mainstream releases this month are respectively untested, unremarkable and unrecommended.
All Eyez on Me (Not Released Worldwide; June 15) is a biopic of the rapper Tupac Shakur. Following the moderate success of Notorious (East Coast!) and critical acclaim of Straight Outta Compton (West Coast!), the rapper's story bridges the scenes somewhat as he was born and raised in East Harlem, but moved to California as a teen. It's interesting to note that Jamal Woolard will once again play Biggie Smalls (as he did in Notorious), cornering the role in much the same way as Michael Sheen has made himself the go-to Tony Blair.
Based on a novel by Julian Barnes, there's something instantly familiar about The Sense of an Ending (61; June 29). But those three were in London Spy, you'll find yourself saying, they ended up getting married in Downton Abbey, they were brother and sister in Match Point, they were mother and daughter in Restless … it's a wonder anybody else gets any work. Being British and posh certainly appears to be an advantage these days. Britain's academics are all posh, it appears to be stipulated by casting agents, as are civil servants and anyone pre-1964 not working in a factory.
Finally, it doesn't bode well for the wedding comedy Table 19 (40; June 22) that there isn't a single decent line in the trailer and that they've already made a promo in which the actors commend each other on how funny they are in real life. Yes, we know Stephen Merchant and his brand of humour is funny, but undeliberately cringeworthy? Avoid these nuptials at all cost!
Hardly animated
Elsewhere, we've got four animation films – Transformers: The Last Knight (NRW; June 15), the Danish-produced Sheep & Wolves (NRW; June 15), Despicable Me 3 (NRW; June 29) and Fireman Sam: Alien Alert! The Movie (NRW; June 8) – that might or might not have English subtitles at selected cinemas.
What? The Transformers film isn't a cartoon? With all the CGI it's got, it might as well be.