News
Record number of MRSA cases in Denmark
---
This article is more than 6 years old.
2016 saw a significant increase in the number of new instances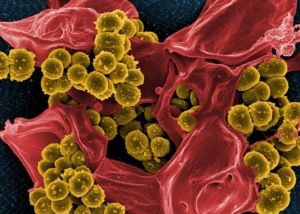 A new report from the State Serum Institute (SSI) has revealed that Denmark saw the highest ever number of cases involving the antibiotic-resistant bacteria MRSA last year.
The report showed there were 3,550 new cases in 2016 – a considerable jump from the 2,973 instances that occurred in 2015. According to SSI, asylum-seekers accounted for part of the increase.
"MRSA among asylum-seekers was calculated in 2015 and 2016, as they often come from areas with a high MRSA prevalence and are only offered PRSA treatment in Denmark if logistical conditions permit it," SSI wrote.
"One part of the observed increase among asylum-seekers is due to a changed and more thorough registration practice and screening activity. It is recommended that asylum-seekers who are living or have lived in an asylum centre within the last six months are checked for MRSA at the hospital."
READ MORE: Danish MRSA-infected pigs causing problems throughout Europe
Low hospital infections
The report also showed that there continues to be a very low prevalence of MRSA cases stemming from the hospital industry, which indicates that the national MRSA guidelines are working according to intentions.
The number of people who were infected during a hospital visit was at just 43 last year, compared to 40 in 2015.
Furthermore, the SSI figures found there was a small increase in the number of cases involving MRSA in farm animals (the so-called CC398 bacteria) – up to 1,249 from 1,173 in 2015.