News
Denmark to be global trial nation for 'car of the future'
---
This article is more than 6 years old.
Car giant Honda to test its new hydrogen cars here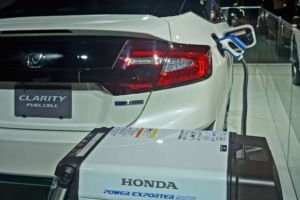 The Japanese car producer Honda has picked Denmark as its global testing location for its new hydrogen car, the Honda Clarity.
In the future, hydrogen cars could replace petrol and diesel cars, though much will depend on the initiative becoming a success in Denmark, according to the Energy and Climate Ministry.
"The price and charging options are essential aspects," Lars Christian Lilleholt, the energy and climate minister, told Metroxpress newspaper.
"Judging by the price of hydrogen cars today, it could be difficult for some people. It definitely requires a strong economy, although technological developments mean the price is getting better and better. To me, there are perspectives in hydrogen cars."
READ MORE: Denmark hands electric cars a much-needed boost
Phasing out fossil fuels
Five families based across Denmark will test the new hydrogen cars over the coming months. Currently, the car is only on the roads in Japan and the US.
But by 2020, Honda wants hydrogen, electric and hybrid cars to account for two thirds of its production as the more polluting petrol and diesel cars are phased out.
"Honda has chosen Denmark as a global testing nation for its new hydrogen car, Honda Clarity, because the Danes are a leading nation when it comes to sustainable energy and the environment," Thomas Larsen, the head of communications at Honda Denmark, told Metroxpress.
Larsen also said that Denmark fits well size-wise as the eleven hydrogen stations in the country are all accessible.
The Honda Clarity isn't yet for sale in Denmark, but the price is evaluated to be at around half a million kroner, based on sales figures from Japan and the US.
A majority of the Danish government recently agreed that by 2050 it shouldn't be possible to purchase petrol and diesel cars in Denmark. However, the recent debacle regarding the registration tax of electric cars has stymied sales figures recently.