News
UNESCO designates Møn as Denmark first biosphere reserve
---
This article is more than 6 years old.
Move expected to be a boon for tourism, business and sustainability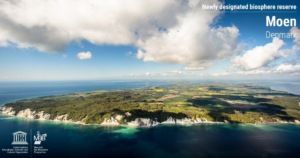 The UN organisation UNESCO has unveiled the chalk-white cliffs of Møn and its surrounding islands and waters as Denmark's first biosphere reserve.
According to UNESCO, biosphere reserves are learning places for sustainable development where the aim is to reconcile biodiversity conservation and the sustainable use of natural resources.
"This reserve consists of a series of islands and islets in the southern Baltic Sea, over approximately 45,118 hectares [in size]. Its landscapes include woodlands, grasslands, meadows, wetlands, coastal areas, ponds and steep hills," UNESCO wrote.
"This biosphere reserve includes a number of small villages, scattered farms and residential areas with a total population of some 45,806 inhabitants. The main activities are trade, agriculture, fishing and tourism."
READ MORE: Greenland landscape could become UNESCO Heritage site
'Mon the Møn
Møn, which is already a UNESCO World Heritage site, is a big draw for locals and tourists alike with its varying post-glacial landscape of hills, cliffs, beaches, valleys and islands.
Vordingborg Municipality, where Møn is located, is understandably pleased with the designation – the first in the Danish Commonwealth since northeast Greenland was accepted in 1977.
"We who live in Vordingborg Municipality have always known that the nature in the area is something special, and now UNESCO has confirmed it," said Michael Seiding Larsen, the mayor of Vordingborg.
"The designation will benefit tourism, business and the locals, but the nature will always take centre stage. The biosphere project will co-operate with the people who live and run businesses in the area based on national legislation. The area also shows the way forward for the future development of the rural districts from a sustainable perspective."
Møn was one of 23 new sites designated as a biosphere reserve by UNESCO yesterday. See the others here.
Earlier this year, Denmark submitted Greenland's Inuit hunting grounds 'Aasivissuit – Nipisat' to become a UNESCO's World Heritage site.