News
DSB recommends ruling out the purchase of high-speed trains
---
This article is more than 6 years old.
Political differences of opinion regarding the train fund, Togfonden, have necessitated a change in policy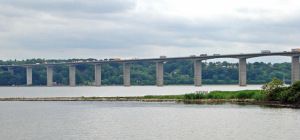 DSB, the Danish state railway company, is recommending that the purchase of high-speed trains be dropped and electric trains with a maximum speed of 200 km/hour be bought instead.
These would replace both regional trains and intercity trains, TV2 Nyheder reports.
More than an hour
High-speed trains that can travel at speeds of up to 250 km/hour were necessary in order to live up to the political agreement reached back in 2013.
Goals of one-hour transport times between Copenhagen and Odense, from Odense to Aarhus and Esbjerg, and from Aarhus to Aalborg, were part of that agreement.
Less cash than anticipated
The Togfund was set up in 2013 to fund these improvements, and they were partly to be paid for from the revenue accrued from taxes on North Sea oil. Due to falling oil prices, this has been less than anticipated.
The goals are now in jeopardy, as there is no political will at the present time to go through with some of the accompanying infrastructure projects, which include a new bridge across Vejle Fijord.