News
Japanese Crown Prince on official visit to Denmark
---
This article is more than 6 years old.
To celebrate 150 years of diplomatic relations between the two countries, crown prince Naruhito of Japan touched down at Copenhagen Airport yesterday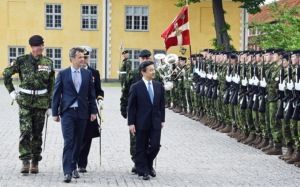 The future Japanese Emporer, Naruhito, was met on the tarmac at Copenhagen Airport yesterday by Crown Prince Frederik and Princess Mary.
In the course of his visit, the Japanese Crown Prince will visit Hans Christian Andersen's house, Kronborg and the Vestas wind-turbine factory, DR Nyheder reports.
On top of that, Queen Margrethe will host a lunch at Fredensborg castle on June 18 and the Danish Crown Prince Couple will host a dinner in Frederik VIII's Palace in Amalienborg.
READ ALSO: Denmark and Japan celebrating diplomatic anniversary in style
Special cultural events
The jubilee is also being celebrated through a number of special exhibitions. For example, from June 17 to September 3, Kongernes Samling at Amalienborg will be showing an exhibition entitled 'Japan in the Royal Family'.
This is the first time in more than a decade that the Japanese Crown Prince has visited Denmark. The last time was 2004 when he participated in Frederik and Mary's wedding.
Japan is the world's third-largest economy, so an important trading partner for Denmark, and the two nations celebrate 150 years of diplomatic relations this year.