News
In touch with the treetops: the canopy walkway down the road from Copenhagen
---
This article is more than 6 years old.
When completed, Camp Adventure – The Treetop Experience will enable visitors to follow a 600-metre pathway above the forest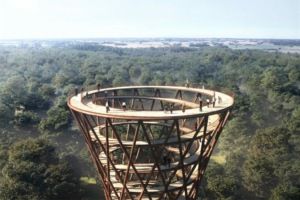 As a species, we like to touch what we can see. Our endeavour has proven every destination can be reached: Everest, the Moon, and why not the stars? We'll reach for them and find out the hard way – the human way.
It wasn't that long ago we thought the same about the treetops. How ancient man must have stared into that canopy of slender branches, teeming with birds and other wildlife, and wondered what it would be like to walk amongst it … like a god.
Today you can already take a cable car or zip-line above the canopy of a forest, and soon, thanks to an ambitious project planned in a forest near Næstved in southern Zealand, you'll be able to walk through one too.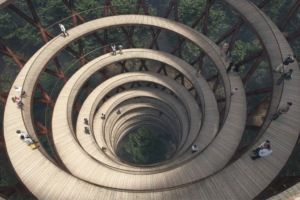 Close to Copenhagen
Located in Gisselfeld Klosters Skove, within an hour's drive of Copenhagen, 'Camp Adventure – The Treetop Experience' will enable visitors to follow a 600-metre pathway through the forest canopy.
The project isn't too similar to New York City's 2.33 km High Line – a disused elevated freight railway on Manhattan recently converted into an urban park – but it's aimed at nature lovers and educating children about the environment.
As well as experiencing the forest from a unique perspective, visitors are afforded a bird's eye, 360-degree view of an area of outstanding beauty that includes lakes, creeks and wetlands.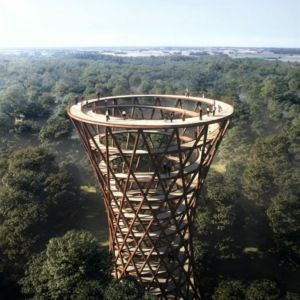 Experienced in effects
The construction, which will take great care not to disturb the arboreal environment, includes plans for a 45-metre observation tower, an aviary, spiralling ramps, and stop-offs for leisure and educational activities.
Architects EFFEKT describe how the tower's design will shun "the typical cylindrical shape in favour of a curved profile with a slender waist and enlarged base and crown" enabling "better contact to the forest canopy".
As well as designing the treetop walkway for outdoors activities centre Camp Adventure, EFFEKT has also landscaped terraced parks on the roofs of high-rise buildings and constructed residential developments that resemble an Alpine Valley.