News
Bluefin tuna returns to Danish waters
---
This article is more than 6 years old.
After a decade-long absence, the elusive fish has once again been sighted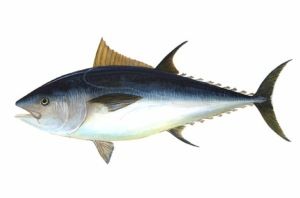 Researchers at Denmark's Technical University (DTU) are appealing to the public to help them understand why the bluefin tuna has come back – and why it went away in the first place.
Fifty years ago, it was possible to catch a fish weighing over 200 kilos in the Øresund, and during the 1950s, around 2,000 tonnes of them were landed. But the fish suddenly disappeared and has not been seen for at least a decade, reports Videnskab.dk
READ ALSO: It takes more than a giant tuna fish to excite DR apparently
In 2012, three were caught off Greenland, and in August 2014, the department of agriculture and fisheries revealed that 21 more had been caught – the largest of which weighed 260 kilos. They have now been seen again in Danish waters.
Track and trace
DTU Aqua is anxious to hear from any anglers who think that they might have sighted a bluefin tuna.
Normally, fishing for the bluefin is illegal, but DTU has obtained a special dispensation for its research project that is being carried out in collaboration with colleagues in Spain, Sweden and the Netherlands.
The idea is to catch fish and attach sophisticated tracking devices to them that give information to a satellite on the fish's movements and the surrounding environment, such as water depth, temperature and light intensity.
The data can then be used to see where the fish have been and reveal their preferred feeding grounds and how long they stay in them.
Tissue samples will also be taken that can be used, among other things, to find out what condition the fish is in and which of the two Atlantic varieties of tuna it belongs to.
Contact DTU
Anyone who thinks they have seen a bluefin tuna and wishes to help should contact Brian MacKenzie at DTU Aqua at brm@aqua.dtu.dk