News
Red ink on the balance-sheet again for Denmark's Hard Rock Cafe
---
This article is more than 6 years old.
The Danish end of the popular worldwide restaurant chain has lost money once again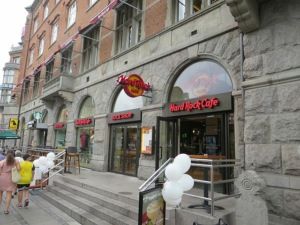 Now situated on Copenhagen's Rådhuspladsen near the town hall, the Hard Rock Cafe epitomises American food and the rock 'n' roll lifestyle.
READ ALSO: Hard Rock enjoys smashing city centre opening
However, times have not been kind to the concern. For two years in a row the restaurant has lost money. In 2016, this amounted to in excess of 14 million kroner after tax, Metroxpress reports.
In 2014, in contrast, Hard Rock Café (Denmark) generated a profit of 2.3 million ahead of its 2015 move from the corner of Tivoli to a location often missed by passers-by due to its proximity to the ongoing Metro construction.
Between a rock and a hard place?
However, the owners of the restaurant seem confident things will change – particularly once the nearby Metro station opens next year – as they have invested nearly 30 million kroner in the concern over the course of 2016 in order to turn the tide.
The chain is owned by the Seminole tribe from Florida, who back in 2007 bought it for 965 million dollars (over 6 billion kroner). The money to purchase it came from casinos that the tribe owns, plus guided tours, hunting and fishing in the six reservations in Florida.
There are 235 restaurants spread over 60 countries worldwide. On top of this, the concern owns a number of hotels, casinos and concert venues.