Things to do
Party like the Vikings at the Roskilde Festival warm-up
---
This article is more than 6 years old.
Mud-fights, drinking contests and raucous music on the agenda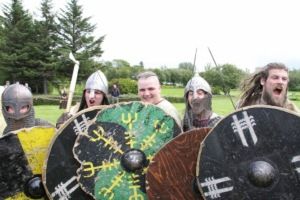 Over 1,000 years ago, Roskilde was the home of the Vikings, and singing, drinking and fighting would have been as common there on a Saturday night as it is in the town of Randers today.
And now it's your chance to live like the country's infamous ancestors (or if you are not a native, perhaps an invader?) at the Wild Viking Party on June 24, the day this year's Roskilde Festival officially opens its gates.
The Vikings are coming
The party marks the beginning of midsummer and the opening of the internationally acclaimed music festival.
It kicks off at 18:00 at the festival camping ground's 'swimming lake' where participants can sing and dance around a huge bonfire at sundown (swords and shields optional).
What is Viking blót?
The festival is named 'Viking Blót', which in Old Nordic translates roughly as a pagan ritualistic sacrifice to the gods.
These pagan tributes generally took place in the form of a large feast or ceremony, which is fitting as the festival will be serving mead by the glass or drinking horn.
But remember that drinking from the skulls of your enemies is strictly prohibited.
Viking chic
Fans can find dress code inspiration from the series 'Vikings' in which Ragnar Lothbrok and co display the latest in Viking fashion and accessories.
If you decide to go full Viking and your attire consists of animal fur skins, avoid injury and ensure you don't get too close to the enormous bonfire during the celebrations.
Roskilde's got talent
The festival would not be complete without some Nordic-inspired music, and that's why the organisers have gathered a number of local musicians and bands from Denmark and Scandinavia whose styles and performances vary from Nordic folk music to death metal.
There is something for everyone as lyres and violins accompany guitars and heavy vocals.
Several acts – including Virelai with their old Norse ballads and acoustic techno, and Songleikr with their Norse folk music – will deliver alongside Sorten Muld a 'fairy-tale-like' mix of folk and techno, providing crowds with a rare performance.
All the mead a Viking needs
The Viking party presents a unique opportunity to celebrate the culture and history of the city while losing your friends in the crowds, engaging in mud-fights, drinking contests and listening to music with a genre of its own.
Embrace it and go fearlessly into the night, and then wake up prepared to do the same again for an entire week.