News
Record-breaking Lego ship on display in Helsingør
---
This article is more than 6 years old.
For the first time in 30 years, there will be a ship in the dry dock of the former Helsingør shipyard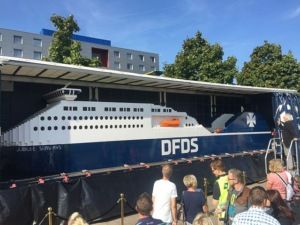 The world's largest Lego ship, a model of a DFDS ferry built to commemorate that company's 150th anniversary, has now arrived in Denmark.
Visitors to Helsingør north of Copenhagen can view the ship in the town's former shipyard – the first time in 30 years that the dry dock will have hosted a vessel.
Previously, the ship has been on display in Trafalgar Square in London and in the Netherlands, Germany and Sweden, reports TV2 Lorry.
Another brick in the wall
The vessel, which has taken 900 hours to build and is over 12 metres long, weighs almost three tonnes. A staggering 1,015,000 Lego bricks have been used in its construction.
The ferry has also been certified by Guinness World Records as the planet's largest.
A new tourist attraction
"We think that it is extremely appropriate, that after 30 years, a new ship is docked at the quay," says Frederikke Møller, the head of communications at the town's maritime museum, Museet for Søfart.
There will be access to the ship until 20 August. As it is only a model it is not possible to sail and not sturdy enough to be boarded. However, it is possible to go round the ship and touch it.