Things to do
At Cinemas: House prices in Troy, Stalingrad and Gallipoli are soaring
---
This article is more than 6 years old.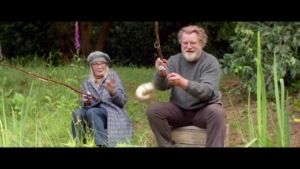 As the true extent of the Grenfell Tower atrocity billowed out over Britain and beyond, an eloquent local explained to media how the Notting Hill Gate community was made up of countless layers, but ultimately divided by class. Among the outsiders to blame for this division were people who "buy in because they've seen the movie".
Portobello mush
Now, no arguments with that sentiment here, but was this man seriously suggesting that a few exteriors of Portobello Market, a lovey-dovey bench in a private communal garden and a group of abhorrent friends were enough to persuade people to move to this central London district. Yes! People really are that stupid, and the same will probably be true of Hampstead (44 on Metracritic; released Aug 10) in north London.
Notting Hill's Brit meets Yank romcom plot would appear to be the blueprint that director Joel Hopkins intends to base most of his films on, as long as the main male character has lost everything but their lovability. In the case of a perfectly cast Dustin Hoffman in Last Chance Harvey it was his job and his daughter. In Brendon Gleeson's case in Hampstead, it is his house, which is why he's living rough on the heath. Fortunately, Diane Keaton can see the wood for the trees.
Spirit like Harold Shand
Not sure that Christopher Nolan's war film Dunkirk (Not Released Worldwide; July 20) is going to lead to soaring house prices on the north coast of France. If aerial bombardments turn you on, you'd be better off moving to 1944 Dresden, although Dunkirk is strictly PG, which is just as well given that Harry Styles is on board alongside a cast that also includes Tom Hardy, Kenneth Branagh and Mark Rylance.
Nolan rejects the category 'war film', telling media it is one of 'survival' – among his cited influences are Alien, Speed and The Battle of Algiers. Dialogue is apparently limited, so it's just as well that the dependable Hans Zimmer is scoring the film, while Interstellar cinematographer Hoyte van Hoytema is also on board.
Franchises of the future
Nobody's rehired Andrew Garfield for Spiderman: Homecoming (NRW; July 6). In fact, he got replaced in a Marvel movie in which Spidey made a cameo. The spin on the web suggests the fans of the masked freak are hard to please – and I've got a suggestion regarding how to appease them. Stop making these films! Or at least from 2019 onwards, as a sequel – or will that be reboot, prequel or franchise-family spin-off – has already been announced.
Overall, though, this summer's short of sequels, with only War for the Planet of the Apes (NRW; July 6) and horror yarn Annabelle 2 (NRW; Aug 10) among the field, while grim-sounding The Emoji Movie (NRW; Aug 3), Charlize Theron's take on 007 role in 1980s Berlin in Atomic Blonde (68; July 27) with strong support from James McAvoy, and Valerian and the City of a Thousand Planets (NRW; Aug 3) are franchises waiting to happen.
The latter is the sequel Luc Besson would have made 15 years ago had The Fifth Element not seriously questioned his ability to deliver box office gold. Since then he's been rebuilding his commercial clout by writing numerous franchises. That's right, we can probably blame the very existence of the likes of The Transporter, Taken and Taxi on T5E failing to appeal to audiences.
Set in the 2800s (five centuries on from T5E), this is another race against time to save humanity against colourful, freaky backdrops, with dare-we-say-it a more likeable cast than the last time, including Clive Owen, Ethan Hawke and Hollywood's most futuristic looking man, Rutger Hauer.
Positive tulip speculation
Curiously Valerian's main stars, Dane DeHaan and Cara Delevingne, both also feature in Tulip Fever (NRW; July 13), the story of a married woman's affair with an artist – a similar plot to The Illusionist, but without the crap magic. With supporting actor Oscar heavyweights Alicia Vikander and Christoph Waltz on board, and in truth a marvelous mostly British cast in support, this could be the escapism from the torrential rain you're looking for.
Opting for a historical drama is probably your best bet over the next seven weeks. The Lost City of Z (78; Aug 10) is the story of the disappearance of the British explorer Percival Fawcett (Charlie Hunnam succeeding in putting his outing as King Arthur behind him) on the Amazon in the 1920s.
Above everything, it is splendidly shot thanks to the input of the director of photography Darius Khondji, who has previously worked his magic on the likes of Se7en and Delicatessen.
Go with steady Stewart
Elsewhere, there's a whole load of films that have given originality a wide berth. In Wish Upon (NRW; July 13) a girl discovers something that she only needs to rub and it will give her whatever she wants – no, it's not what you're thinking.
Midnight Sun (NRW; Aug 3), a sheltered girl's romance with a hunky fellow teen, is kicking itself that it didn't make it out ahead of Something, Something, which has a near identical plot, while Girls Night Out (NRW; July 20) sounds like a blatant rip-off of Bridesmaids.
Continuing with the missable fare are the documentary Whitney: Can I be me (65; July 26); cartoon Bigfoot Junior (NRW; July 27); and All I see is you (41; Aug 10), in which a blind woman regains her sight and finds out her husband is John Merrick.
This leaves Kristen Stewart's latest vehicle, Personal Shopper (77; July 6), which has decent reviews despite having a plot that sounds like it's two different films sellotaped together.
Yes, a story in which the poor are exploited to improve the appearance of the rich – the story of Grenfell Tower all over again.