News
Ten things we learned at this year's Roskilde Festival
---
This article is more than 6 years old.
Among our findings: a heavy police presence might have resulted in a fall in crime, rap might have displaced rock as the festival's new darling, and the Orange Feeling is alive and kicking!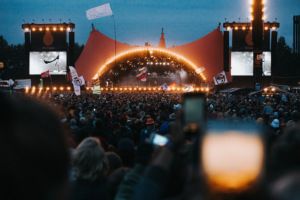 1 The police meant business
This year's Roskilde Festival had a heavy police presence in and around the festival. We saw sniffer dogs, police men with machine guns at the East entrance (a first) and patrol vehicles around the camping grounds.
2 The crime stats were lower
Six rape cases are being investigated, one more than last year's figures. Some 130 reported thefts took place this year – significantly lower than in the last two editions of the festival, which both registered close to 800. A total 20 arrests were made this year – a number also significantly lower than in previous years. And sadly there was one death: a 24-year-old volunteer for Muskelsvindfonden who was discovered where he slept on Friday.
3 The future is nigh
For the first time ever, Roskilde Festival was a cash-free affair, with mobile pay and credit cards the official payment mode. In general, the festival had a look and feel that was more organised than it has been in previous years. Will we soon see the implementation of digital bracelet systems that allow for pay-by-scan options and other innovative solutions?
4 It's all about timing
A number of shows started later than expected – remarkably later in the case of Jamaican dancehall artist Popcaan. The announcements notifying Roskilde's guests of the new start times were not always clear nor properly delivered.
READ MORE: Our top five Roskilde 2017 concerts in case you missed them
5 Rap is the new rock 'n' roll
Rappers are the new rock stars (to quote Kanye West). Roskilde Festival has deep roots in rock music and has for many years been known as a rock festival. This year, the headlining names and the names creating the post-festival headlines were drawn from the more mainstream avenues of R 'n' B and rap – the latter of whom hogged the spotlight at Roskilde 2017.
READ MORE: Beyond Illimatic – Nas gives festival a lesson in hip-hop
6 Roskilde is (still) huge
Some 130,000 festival-goers, 32,000 volunteers, 180 concerts by acts from over 30 countries across nine stages. Does it sound like a party? It was! All of the profits will, as always, be donated to charity work around the world
7 The Art Zone was more accessible for all
Art should engage, provoke and inspire. This year's art zone had a laid-back feel to it thanks to an outdoor lounge-esque area that housed plant life, sculptures, smoke screens and other installations by artists such as Rune Bosse, Regitze Karlsen and ThinkingHand. The art zone was easy to digest and comfortable to be in.
8 Come rain or shine, the party went on
Friday's perennial downpour saw the festival grounds doused in rain for most of the day and night. In fact, the rain started falling as early as The xx's concert on Thursday night. Out came the wellies and waterproof garments, but even they couldn't stop the rain from seeping in here and there and dampening the atmosphere – quite literally. A river of mud and a mess of broken camping gear, mackerel cans and memorabilia were left behind – the festival will end up incinerating 2,400 tonnes of it – but the party continued well into the night.
9 #Rfheroes – there were many
Building on the success of last year's event, in collaboration with the Tuborg Foundation, Roskilde Festival continued the #Rfheroes campaign – encouraging festival-goers to nominate their Roskilde heroes on Instagram. Five groups of heroes were consequently added to the Roskilde 'Walk of fame' brass plates. What is a hero I hear you ask? Essentially, one or more of the 130,000-strong crowd who's walked the extra mile for the benefit of other festival-goers.
10 The Orange Feeling reigns supreme
So we had mixed feelings about the line-up, and there was the odd technical glitch here and there, but at the end of the day, Roskilde is still Roskilde, and befittingly 'The Orange Feeling' has not been compromised.
Roskilde may have diverted from its rock roots in an increasingly competitive local festival market in which booking the biggest names can be a tussle, but there can be no questions asked about the quality of the performances of those booked.
We sat on the shoulders of strangers and danced together under a darkened sky, drank warm coffee with lovers and friends and bonded through the power of music and art. This was our Orange Feeling and we suspect there are a few out there who may have similar sentiments.