News
Weapons bust in Nørrebro: looking for cannabis, the police instead find a cache
---
This article is more than 6 years old.
A youth club raid discovers a Uzi, hand grenade, M95 rifle and a pump-action shotgun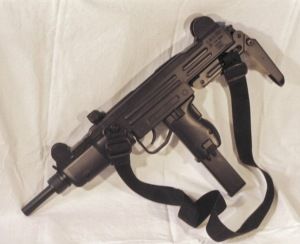 The search of a youth club on Blågårdsgade in Nørrebro on Monday night yielded more than the police were expecting.
Confident they would find cannabis at Blågårds Bunkeren, the police arrived with a warrant but found no drugs at the premises.
It was as if the drug dealers had known they were coming. Or had they?
A formidable arsenal
Because while the police discovered no cannabis, they found a sizeable weapons cache that they suspect is the property of local gangs.
Included in the cache was a Uzi machine gun, M95 rifle and a pump-action, sawn-off shotgun – all loaded – along with a hand grenade.
The police have apprehended a 26-year-old man, but it is believed the arrest was in connection with alleged drug dealing at the premises, not the weapons cache.
Weapons armistice a success
Meanwhile, midnight on July 1 was the last chance to hand in weapons anonymously without punishment, and the police have confirmed that thousands have taken part across the country.
The armistice was organised ahead of the minimum penalty for illegally possessing firearms and explosives rising from one to two years in prison from this month onwards.
Among the artillery handed in were tear gas, over 100 hand grenades and a British incendiary device from World War II.