News
Øksnehallen's blockbuster photo exhibition exposes the extraordinariness of supposedly everyday life
---
This article is more than 6 years old.
Photographers from a number of countries worldwide explore every aspect of the human condition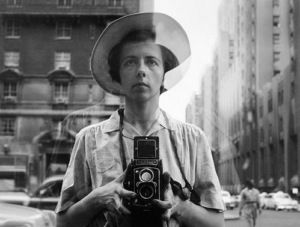 'Street photography' is a term that usually encompasses a picture taken on the fly in a public place, in which the photographer acts as an observer of whatever is happening. It seems to have existed as a genre as soon as cameras became portable enough to be easily carried around.
This exhibition is truly an overwhelming experience! On entering, you are confronted with a vast hall area and what seems to be thousands of pictures, so it is difficult to know quite where to start.
Vivian Maier is the true star
There is no doubt, though, that the real draw of the exhibition is the work of Vivian Maier (1926-2009). Totally unknown until recently, this American nanny took around 150,000 pictures in her spare time, mainly of New York, Chicago and Los Angeles. A generous number of them are on display.
And what pictures they were! Maier was able to find something beautiful and interesting in even the most mundane things. For example, stacks of wooden crates piled high in a higgledy-piggledy fashion in a yard in Canada, or the amazing shadows cast on a concrete wall from an iron fire escape in Chicago.
She often uses herself as a subject in her pictures. 'Self-portrait May 5 1955' shows her looking earnestly into a mirror. There is also a mirror on the wall behind, so the picture achieves a sort of tunnel effect, with multiple reflections of Maier's back and front.
Or take 'January 56', in which we look into a grocer's shop window. The picture is cut diagonally across by a curtain under which tins of peaches are visible stacked up – plus two feet in brogues – presumably the grocer himself. On the curtain, ghostly shadows of passing cars can be seen due to the reflection in the window. This gives the picture an almost surrealist feel.
In her latter years she went from using black and white to colour. One image from 1975 – another self-portrait – shows her in the person of her own shadow, with hat and camera, cast on a lawn strewn with buttercups – so simple, but yet so effective.
Paris and Dublin
Some of the earliest work on display here is from Eugène Atget, a French photographer who lived between 1857 and 1927. His work shows ordinary Parisians going about their daily work: tradesmen such as the basket seller, pavers and asphalters.
A bit further on we have the work of Jean Hermanson, a Swede who went to Dublin in the 1960s with the intention of following in the footsteps of James Joyce, but ended up taking pictures of children on the streets instead.
There is a striking image of four little girls lying or reclining on a flight of steps up to a door. They have a doll's pram with them and they are all laughing in a delightfully infectious way. Another picture shows a lone white horse in close-up cropping the grass in front of a mountainous landscape: sheer tranquillity.
A trip down memory lane
Hermanson's work reminded this reviewer of his own childhood – the same Ford Cortinas and Anglias in the streets, the way my mother used to dress to go shopping – it all came back.
And my earliest memories of late-1970s Copenhagen were also brought back into focus by the pictures from the book 'Copenhagen Con Amore' by Jokum Rohde and Søren Ulrik Thomsen.
Here, shopfronts and shop windows from Nørrebro and Vesterbro are featured. There is also the striking image from the old Studio cinema on Vesterbrogade, the facade of which was dominated by a large figure of a reclining girl. From a window above her, an arm reaches out and a hand is pulling up her skirt to expose her bare bottom! All this, of course, has been swept away by the advance of gentrification in that area. Another picture shows a shop where you could get a bøf sandwich (or burger to us!) for a mere 13 kr.
Out into the world and back again
Gurli Nielsen and Tove Kurtzweil, both Danes, roamed further afield. They are represented by photos taken in India, China, Thailand, Bali, Greece, Tunisia and Egypt.
Another striking series is by a Swede, Jens Olof Lasthein, who shot some amazing colour panoramic format pictures of life in the Caucusus after the fall of Communism.
There are many more great photographers represented, such as William Klein, Robert Frank and Josef Sudek, but I'd like to single out another Dane, Eva Merz.
She is represented by a series called 'Gammel Vardevej', consisting of a number of interiors from a block of flats in Esbjerg. There are no people here, so it is up to the furniture and props of everyday life to pique the viewer's interest. It certainly worked for me – and it is perhaps noteworthy that there is not a trace of fancy Danish designer furniture in any of them!