General
Danish fishermen leaving behind thousands of lost fishing nets
---
This article is more than 6 years old.
'Ghost nets' are deadly to wildlife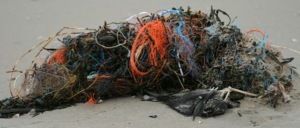 Danish fishermen do not report lost trawls or other nets. After just one day of diving, investigators from the World Wildlife Fund (WWF) show that thousands of lost nets that are traps for birds, fish and other wildlife have been left behind.
WWF employees dove between  Sjællands Odde og Djursland and found tons of lost nets on four different shipwrecks.
"The wrecks were actually wrapped in nets, and in some places the nets were like towers standing 8-10 metres high," WWF General Secretary Bo Øksnebjerg told DR Nyheder. "We found both old and new fishing gear."
"Sins of the past"
In countries like Norway and the United States, lost nets, sometimes called 'ghost nets' are reported and collected.
Denmark's fisheries sssociation, Danmarks Fiskeriforening, does not view ghost nets as a big problem but said that they were willing to take a look at what office manager Ole Lundberg Larsen called "sins of the past".
Environment and Food Minister Esben Lunde Larsen said that ghost nets are part of the government's forthcoming action plan against plastic in the ocean.