News
Battle brewing to save the 'world's oldest tattoo parlour'
---
This article is more than 6 years old.
Tattoo Ole in danger of being shut down.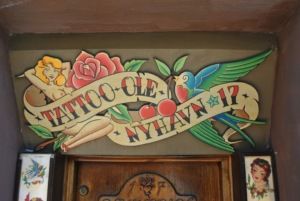 'Tattoo Ole', the tattoo shop located under Nyhavn 17 in Copenhagen first started inking drunken sailors and other miscreants in 1901.
It is most likely the world's oldest continuously operating tattoo studio and continues to thrive in this modern age of tattoos for, well, everyone! Now, this unique part of Danish history is in real danger of being shut down.
The building's owners have declined to renew the tattoo shop's lease. They want to repurpose the space as a kitchen for their outdoor restaurant.
Old school challenges
This is not the first time the owners of the building have tried to shut down the tattoo shop. They attempted to evict  the legendary artist Ole Hansen in the eighties and Tattoo Bimbo/Jørgen Thorstein after that. Now, Majbritt Petersen, the first female owner in the shop's history, finds herself fighting to stay open.
A piece of history
Although it may no longer be the 'Tattoo Capital of the North', as it was known for many years, Copenhagen has a long, storied history in the ink trade that continues today.
Tattoo Ole's supporters said that it is "disgraceful to destroy this important piece of tattoo history!"
READ MORE: From sailors to kings: tattoos move beyond Nyhavn
They have started a petition to save the shop, and supporters are encouraged to sign up and express their opposition to Tattoo Ole being shut down before the case hits the courts on September 14.