News
Tanks on the streets of Copenhagen
---
This article is more than 6 years old.
Amnesty International's latest ad attempts to bring the reality of the Syrian war to the Danish capital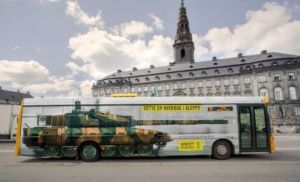 Residents and visitors to Copenhagen may have recently seen a frightening symbol of war prowling the city's streets; A politically-themed bus ad featuring a wrap that transform the bus into a tank.
While previous bus wraps in Copenhagen have featured Donald Trump's googling eyes and bare breasts.
This campaign was designed to be taken more seriously.
"This is everyday life in Aleppo," reads the headline on the side, referring to the Syrian city devastated by the country's civil war.
A pointed reminder
The ad, created by the agency Robert/Boisen & Like-minded, was designed to remind people that while the Islamic State has left Aleppo, the Syrian war continues and that refugees have a right to security from war and persecution.
"It can be difficult to imagine what it is like to live in a city, where one fears for one's own and loved ones lives daily," said Claus Juul, legal consultant for Amnesty International. "Therefore, we have brought the everyday life of Aleppo to Copenhagen's summer cityscape, so Danes can face Syria's brutal conflict."