News
Danish research: Sober higher education students face greater risk of dropping out
---
This article is more than 6 years old.
People who drink moderately during intro shenanigans at university have a better chance of remaining in school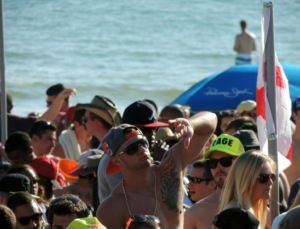 Perhaps the wild partying that takes place during fresher week at university isn't such a bad thing after all.
New research from the Danish Evaluation Institute (EVA) – which investigates the
quality of daycare centres, schools and educational programs – found that most students who don't drink alcohol during the first introductory period of their higher education tend to drop out.
The research showed that the students who don't drink at the beginning of their higher education stood a greater chance of dropping out within the first year of their studies compared to students who drank moderately.
Students who had a high frequency of alcohol consumption were also in greater danger of dropping out. Both they and sober students had a drop-out rate that was about 2 percent higher than moderate drinkers.
"It's expected that students with a very high alcohol consumption tend to drop out more, but it's surprising that students who don't drink drop out more often," said Bjarke Tarpgaard Hartkopf, a project manager with EVA who led the research team.
"It could indicate that educational institutions should consider whether alcohol consumption plays a too dominant role during the intro weeks at the beginning of studies."
READ MORE: Every second Danish university student feels lonely
Social successes
Another of the report's findings was that a longer intro process offering sound social activities reduces the risk of students dropping out.
Overall, the research also revealed that almost one third of the higher education drop-out students do so during the first three months, while over 50 percent will have done so by the end of the first year.