News
Couples can get married in unique surroundings during CPH Pride Week
---
This article is more than 6 years old.
Rufus Gifford and other LGBT leaders undertaking ceremonies in three capital hotspots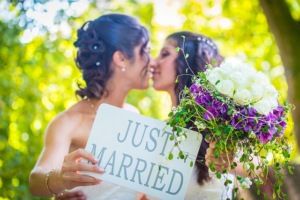 There is always a lot of love in the air during Copenhagen Pride Week. But this year, it could become just a little bit more special – especially for those looking to take their vows.
In collaboration with Copenhagen Pride, the city has unveiled a new event that will allow couples to wed at Copenhagen hotspots during CPH Pride Week this month.
During Pride Week from August 15-19, the city has made it possible for Danish and international couples to wed at a number of special locations in the city.
The ceremonies will be led by three leading LGBT advocates: the former US ambassador to Denmark, Rufus Gifford, author Leonora Christina Skov, and journalist and TV host Hans Pilgaard.
READ MORE: Copenhagen and Malmö looking to co-host LGBT kingpins
Hattrick of havens
The three unique locations in the city where the untraditional ceremonies will take place are at Rådhushaven garden (on August 15 from 12:00-14:00 by Pilgaard), Ørestedsparken park (on August 18 from 14:00-16:00 by Skov) and on Cirkelbroen canal bridge (on August 19 from 10:00-12:00 by Gifford).
"With the ceremonies during CPH Pride Week, smitten couples can gain some experiences that will last a lifetime," said Carl Christian Ebbesen, the city's deputy mayor for culture.
"Getting married is something special, and because it is taking place in the Paris of the north during CPH Pride Week and being led by strong LGBTQ profiles, it can only be some romantic and unique days."
Couples interested in taking the jump during Pride Week can sign up here to take part (in English).