News
Danish News in Brief: Wrecks an eyesore, but not dangerous
---
This article is more than 6 years old.
In other news, a Russian nuclear sub returns to Danish waters, the oldest ever trace of life is found in rocks from Greenland and the mysteries of glass are unravelled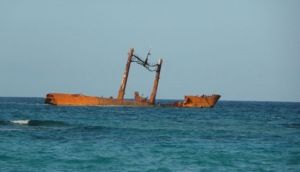 The Environment Ministry has rejected concerned expressed by organisations and opposition politicians that visible shipwrecks pose a threat to their surroundings.
Shortly before the summer holidays, the environment minister, Esben Lunde Larsen, told Parliament the wrecks should be allowed to remain in situ for an indefinite period.
And now in a written answer to Ingeniøren, his ministry has said  the wrecks do not constitute an environmental threat.
Lars Siedelin from the biological institute at the University of Southern Denmark (SDU) added that "the problem here is that you can see them. The others that you can't see don't get any attention."
---
Russian giant sub in Danish waters again
Anyone who missed the sight of the world's largest nuclear submarine passing through Danish waters two weeks ago will have another chance to see it today and tomorrow. The 'Dmitry Donskoj' is on its way back through the Baltic, DR Nyheder reports. Just before midnight, the sub was spotted south of Bornholm and is expected to pass under the Great Belt bridge at around 20:00 on Thursday. The sub, which will be accompanied by a tug and a destroyer from the Russian navy, is 172 metres long and is sailing at a speed of around 10-12 knots.
Is there life on Mars – or only Greenland?
Danish scientists have found the oldest discovered traces of life encased in a 3.7 billion-year-old stone from Greenland. New techniques used by researchers from the nano-science centre at Copenhagen University and the Natural History Museum have been able to prove that small amounts of carbon dioxide in the rock derive from living organisms. This opens up exciting possibilities for finding traces of life in samples from Mars – or anywhere else where life has potentially existed.
Through a glass darkly
We all think we know what glass is, but to scientists it is far from straightforward, as they tend to concur it is in between a liquid and a solid. Researchers from Roskilde University and the Massachusetts Institute of Technology (MIT) have been investigating what really happens when a liquid stiffens and  becomes glass. The research can provide useful insights into making more durable glass – for example for use in smartphones, new medicines and perhaps also providing new information about the Earth's core, reports Videnskab.dk