News
Denmark's latest tourism showcase: A 29-year-old virgin in a glass cage
---
This article is more than 6 years old.
Performance artist Julian Toldam Juhlin putting himself on display in 14 Danish towns over the next two weeks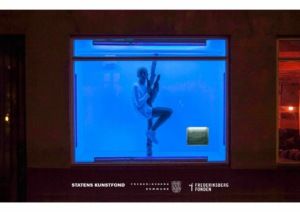 Aside from the Little Mermaid, Round Tower and the Marble Church, tourists visiting Denmark over the next fortnight can take in something a little out of the ordinary: a 29-year-old virgin in a glass cage.
No, it's not Ron Burgundy howling in a glass case of emotion – not that he's a virgin anyways, despite his affection for jazz flute. His name is Julian Toldam Juhlin, a Danish scenographer and performance artist who is exhibiting himself in a number of Danish cities over the next two weeks as part of his 'Virgin Tour'.
"A virgin is a person who has never had sex. According to old beliefs, the virgin is a magical being with supernatural powers. It is said that the virgin can walk through a swarm of bees without being stung, stare into the sun without being blinded and the only being in the world that can tame a unicorn," it is written on the Virgin Tour Facebook page.
"In a display in the streets and alleyways, parking lots and shopping centres, the public will now be given the opportunity to experience and study this rare, magical being up close. Welcome to Virgin Tour."
READ MORE: Marvelously mashed and cleverly cut to create a modernist classic 'Hamlet'
A rare beast indeed
Since August 1, Juhlin has started touring 14 Danish cities in a white limousine. He is helped into a glass cage – fitted with UV lighting – by a number of helpers clad in white. A camera crew, chauffeur and bodyguards are also accompanying him.
Juhlin, who actually turns 30 later this month, began his odyssey in Frederiksberg on August 1, before going to Holbæk and Næstved. Today he'll be in Nakskov, before the tour moves to Svenborg, Kolding, Billund, Varde, Ringkøbing, Ikast, Hammel, Hobro, Nibe and Skagen.
So get out there and check out one of the most rare and endangered phenomena to exist in modern-day Denmark.