News
Hooligans mar Denmark's first New Firm derby of the year
---
This article is more than 6 years old.
Life-time bans called for following ugly scenes at Brøndby Stadium last night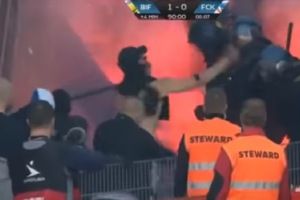 An intense first New Firm derby of the year ended in disgrace after unruly fans from FC Copenhagen ran amok in the dying moments of the 0-1 loss away to bitter rivals Brøndby last night.
Moment after Brøndby scored an injury time winner, a steward fell to the ground after being struck by some sort of object. When the police turned up, the situation deteriorated as the hooligans charged and repelled their advances, using poles and other items to beat the police away.
"This is terrible for everyone, especially for FCK, and we must do everything possible to make sure that those responsible are found and never enter a football stadium again," said FCK coach Ståle Solbakken.
"It's destructive to everything. This won't just be an issue in Denmark, but also for foreign media, so it's actually a really poor advertisement for us."
READ MORE: Battling Danes lose Euro 2017 final to brilliant Dutch
Game stopped
The violence ensued moments after Simon Tibbling had given Brøndby the lead and the referee was quickly forced to stop the game until order was somewhat restored.
The violence continued as the fans went on to tear down what looked like a fence before more police in riot gear arrived to contain them.
Nearly 20 minutes passed before the last two minutes of the game could be played.
The defeat leaves FCK eighth in the table with just one win from four games, four points behind second-placed Brøndby.