News
Business News in Brief: Employee accused of industrial espionage over Metro ads deal
---
This article is more than 6 years old.
In other news, both Danish exports and shipping are enjoying a vastly improved year on 2016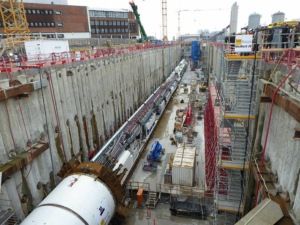 Danish advertising agency Out of Home Media (OOHM) is seeking 35 million kroner from competitor Clear Channels (CC) as it alleges a former employee fed CC sensitive information about its bid for a lucrative contract with Copenhagen's Metro company.
OOHM claims the information enabled CC to underbid its tender and win the contract, and that it helped its former technical director get a job at CC. It also claims that confidential information regarding its contracts with Arriva and Dansk Supermarked was also shared.
Six years in prison
It is believed the former employee could face a charge of industrial espionage – a crime that carries a maximum sentence of six years in prison.
CC told TV2 the allegations are unfounded. However, in an email obtained by TV2, CC has warned its employees to take "great care" should they be questioned.
---
Danish exports rising
Danish exports have been steadily rising thanks to a strong showing by the food, machinery and medicine sectors, according to an analysis of Danmarks Statistik figures by Dansk Industri. While the export of goods rose by 0.1 percent in the second quarter of 2017, the export of services jumped by 3.8 percent – an 8.6 percent overall rise compared to 2016. DI is optimistic about the future, but concedes that a lack of skilled employees or Donald Trump protectionist policies could easily burst the bubble.
Rise in Danish shipping revenue
Danish shipping revenue is steadily increasing after bottoming out in the second quarter of 2016 following a global fall in freight rates at the end of the previous year, according to an analysis of Danmarks Statistik figures by Danske Rederier. Revenue soared by 8.5 billion kroner in Q2 compared to the previous three months – the best quarter since 2015. Revenue fell by 17 percent in 2016.
DI hopes Kenyan presidential result will set precedent
Dansk Industri hopes the Kenyan presidential election result will be a fair one that can set a precedent for good democratic governance in Africa. "Stable and democratic countries often mean good terms for trade and exports," explained DI board member Jacob Kjeldsen. "It is important that both the president and the government can work with the international community and integrate Kenya globally for the benefit of all – and thus also for Danish companies." Exports to Kenya are worth just 200 million kroner – a small slice of the pie compared to other European countries, which the DI project 'Afrikanerisering – From Næstved to Nairobi' is seeking to enlarge.
New CEO at Lego Group
Niels B Christiansen, 51, the former chief executive of Danfoss, has been confirmed as the new CEO of the Lego Group. He will replace Bali Padda, 61, who will assume an advisory role. Christiansen "has changed a traditional industrial business into a leading technology company [at Danfoss]", enthused Lego chairman Jørgen Vig Knudstorp. As well as being the chair of hearing aid company William Demant and the equity fund Axcel, Christiansen is a member of the board at Maersk and DTU.