News
Denmark closing in on burka ban
---
This article is more than 6 years old.
Recent European Court of Human Rights could be final catalyst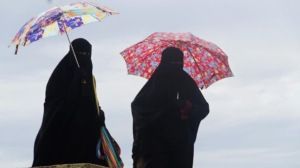 There has been much discussion in Denmark in recent years regarding a possible ban on women wearing facial-covering burka and niqab headwear. Now it seems the government is preparing to take action.
The Konservative party had already announced it was in favour of a ban and today fellow government party Venstre revealed that it expected to join the ranks, indicating that a ban was simply a matter of time.
"Norway is also looking at some kind of ban, and we can feel that in Denmark," Marcus Knuth, the immigration spokesperson for Venstre, told DR Nyheder.
"I think it's just a matter of time before a ban comes to Denmark. More and more can see the benefit of not accepting that kind of suppression of women. But whether the ban comes this autumn or later, I can't say."
Knuth said that a ban was discussed at the party's summer assembly, but a final decision had yet to be made.
READ MORE: Dansk Folkeparti wants a burka ban – for the fourth time in 12 years
Belgians not waffling 
Within other parties, however, there has been little hesitation. Dansk Folkeparti has long been vehemently in favour of a ban, while Konservative has indicated that it would step up its application of pressure on the government regarding the issue.
Meanwhile, Socialdemokratiet said that while it was against women wearing burkas and niqabs, the party would discuss the situation with the government before taking a position.
And while government party Liberal Alliance may be against a ban, PM Lars Løkke Rasmussen announced last week that Venstre's debate on the issue had commenced in the recent ruling by the European Court of Human Rights that Belgium would be permitted to legislate against women wearing headwear that covers their face.