News
Business News in Brief: Employees to blame for poor representation on Danish boards
---
This article is more than 6 years old.
In other news, there's good news for stock investors and Danfoss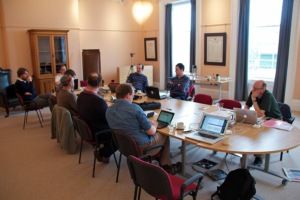 At least 250,000 employees do not have a voice on their company's board despite a 1974 law enabling companies with over 35 employees to appoint worker representatives, reports DR.
Pandora, Jysk, Bestseller, Matas and Hummel are among the 25 percent of companies not to have an employee representative board member, according to figures from 2012.
Thomas Poulsen, an CBS associate professor, told DR it was a lost opportunity to influence the company's strategy.
"Perhaps many employees do not want to assume the responsibility," he said, adding that many might feel unwelcome by the management.
---
Tax shake-up for share investments
The government wants to change the level of tax paid by ordinary Danes on gains generated from trading shares. At present, 27 percent is payable on the first 51,700 kroner derived from trading and then 42 percent on the rest. However, in many countries, there is a tax-free amount that the public can earn before they have to pay the authorities. While the issue has been debated in Denmark for many years, the most preferred option on the table is a 1.25 tax payable on the value of all share portfolios, as opposed to a tax on the profits. The government is keen to change the law to attract more IPOs to Copenhagen. Last year, just five companies listed their shares, compared to 152 in Sweden and 79 in Norway.
Danfoss thriving in China
China has overtaken Germany as Danfoss's second biggest customer following a surge in demand. Jesper V Christensen, the products and services provider's finance director, hailed a "two-digit growth rate" in the Asian country, which now only trails the US. Nevertheless, western Europe is still the biggest regional market, accounting for 37 percent of sales, ahead of North America (26) and Asia (22). "In China, there has been a massive focus on dealing with pollution and city infrastructure, and we have a lot to offer in the area of heating systems and technology that can help them solve their problems," added Christensen.
Rockwool thriving on construction boom
Rockwool, a company that specialises in providing insulation material to the construction business, has upgraded its 2017 profit expectations after a bumper first six months of the year. Revenue shot up 10 percent to 1.1 billion euros (8.2 billion kroner) and its profits rose 6 percent to 106 million euros as Rockwool benefited from increased demand and raising its prices. It has accordingly adjusted its 2017 profit projection from 2-4 percent to 5-7 percent.
Total to relocate North Sea HQ to Copenhagen?
Norwegian media has voiced concerns that French oil and gas giant Total might shortly relocate workers from its office in Stavanger, Norway to Copenhagen following its deal to acquire Maersk Oil, as it is strongly believed it will favour the Danish capital as the base from which to oversee its North Sea activities.
Nokia inks deal with Telenor and Telia
Nokia has agreed a contract with Telenor and Telia to take over the management of their joint mobile radio network in Denmark from October – a network made up of over 4,000 mobile sites across the country. Nokia will provide network planning, optimisation, implementation and operations whilst overseeing all operational and development tasks.