News
Hapless burglars thwarted by combine harvester
---
This article is more than 6 years old.
Stealing Viking gold was not the doddle thieves expected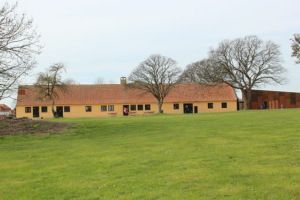 On Sunday night, thieves broke into Danmarks Borgcenter in Vordingborg and stole some of the priceless artefacts on display there as part of the Vikingernes Metropol exhibition.
One of the objects was a replica of the unique Hiddensee jewel, which had been lent to the exhibition by Stralsund Museum in Germany, where the original article is revered as being as precious as Denmark's famed golden horns, Ekstra Bladet reports.
As well as the jewel, the burglars took a number of other objects, including the moulds used to cast the original jewel.
It's a fair cop!
Coincidentally, shortly after the theft, a police patrol noticed a car speeding away towards a bridge close-by. The police were engaged in escorting an extra wide combine harvester across the bridge and had set up a barrier.
"There was a car that drove through the police barrier. It couldn't get far, as the combine harvester was crossing the bridge," said a police spokesperson, Peter Damsgaard.
"When the car stopped, a man got out and crawled onto the underneath of the bridge. That looked suspicious, so more police were sent for."
The items have been recovered in good condition and the thieves are now in custody.
"The objects that we have on loan are priceless. We're extremely glad that they've been returned safely," said Thomas Pedersen from Danmarks Borgcenter.