News
Bring the heat! Tivoli to host chilli tasting
---
This article is more than 6 years old.
Amusement park offering up a host of chilli peppers and tomatoes to try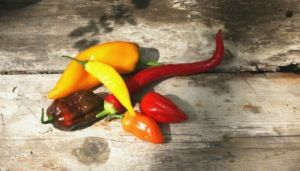 If you know what Scoville units and Carolina Reapers are, or perhaps you just enjoy sweating profusely while eating, then Tivoli is your ticket this coming weekend.
On Sunday 3 September, the Copenhagen amusement park is hosting a chilli pepper and tomato tasting day in collaboration with horticulture firm Gartneri Toftegaard that will be sure to dazzle and perhaps challenge your taste buds.
"Chili is a taste inducer in our food and it actually provides a feeling of satiety. Two thirds of the world's population uses it every day and there are a lot of reasons why. Come down and taste chilli varieties from strength zero and upwards and discover how best to use your chilli," said Lene Tvedegaard, the head of Gartneri Toftegaard.
"Tomatoes are one of the world's most widespread fruit and even in fast food it squeezes itself in as a healthy element. Come and taste a blue tomato, or an Italian food tomato, or a dessert tomato – the diversity is huge and everything is organic."
READ MORE: Noma popping up at home
Feel the burn
Among the 40 chilli varieties guests will be able to taste is one of the spiciest chillies in the world, the Carolina Reaper. The pepper brings formidable heat to the tune of up to 2.2 million Scoville Heat Units (SHU) – significantly more than the around 5,000 SHU a jalapeno pepper brings to the table.
The event will take place around Orangeriet in Tivoli, and the first tastings will take place at 11:00. Access to the event is free with the purchase of a Tivoli ticket.
Check out the video below to see three of Tivoli's youth guard chomp down on some habanero peppers.