News
Architect-designed, full-scale Lego play house to open shortly
---
This article is more than 6 years old.
Architect Bjarke Ingels has been turning his talents in a novel direction recently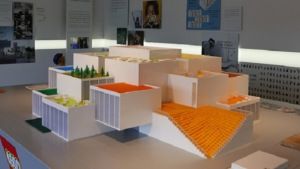 A new project for Lego, inspired by the interlocking structure of blocks made famous by the Danish toy manufacturer, has been created by the architecture firm BIG led by star architect Bjarke Ingels.
Called 'Lego House – Home of the Brick', the building is situated at the birthplace of Lego in Billund, Jutland.
"The building itself reflects what 'Lego play' and the Lego values are all about," said Ingels.
"The brick has been incorporated into the architecture in a simple but ingenious way, and it visualises the systematic creativity that lies at the very core of all Lego play."
A technicolor experience
The building is an impressive 12,000 square metres in size and features a large keystone at the very top designed to the exact proportions and style of a 2 x 4 Lego brick. The facade is also covered in clay tiles to complete the illusion of it being made out of Lego bricks.
Inside, there are a number of 'experience zones', all colour-coded and each one representing a phase of a child's learning. For example, the red zone is creative, blue is cognitive, green is social and yellow is emotional.
A long time in the planning
The complex, which contains a mixture of paid-entry attractions and free areas, also contains a large store, three restaurants, conference facilities and a section dedicated to the history of the company.
The project has been seven years in the making and is set to open on September 28.
See video below for a drone's eye view of the project.