News
Local News in Brief: City mayor deciphers the riddles of the Danish queen
---
This article is more than 6 years old.
In other news, the perils of being a Polish fan, shopping on Pusher Street and holding a party on the roof are all too evident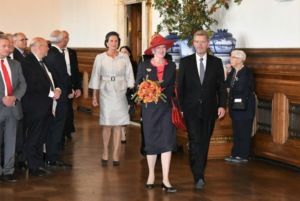 Copenhagen Mayor Frank Jensen has told media he thinks he understands what the queen was driving at when she attended an official event at City Hall on Saturday to mark the 850th anniversary of the city – the theme of this year's Golden Days festival.
"I would like to wish the city many good years in the future," she said in straightforward fashion, before continuing: "Some fresh courage and a little reflection [might be advisable] before you bite off more than you can chew."
According to Jensen, the queen was referring to the ongoing construction of the Metro, which has been going on very close to her official home, Amalienborg Palace, for a number of years.
"The queen has reminded me previously that when you dig very large holes in Copenhagen, they have to be covered again."
---
Pusher Street no longer a pushover
One year on from the dramatic decision by residents of Christiania to forcefully remove the cannabis stands from Pusher Street on September 2, the drug is still being sold in the neighbourhood, but at a greater risk, Copenhagen Police has told DR. "Before, it wasn't that risky for the criminals," Dannie Rise, the head of Task Force Pusher Street, told DR. "But now we come here several times a week – often when they're not expecting it, and we almost always make arrests." The ripping down of the Pusher Street stands last year followed an August 31 incident in which two officers and a civilian were shot. One of the policeman sustained a bullet to the head, but has since made a full recovery and returned to work.
READ MORE: Christiania accepts video surveillance on Pusher Street
Police arrest 31 Polish football fans
Police arrested 20 Polish fans prior to the international at Parken on Friday evening that Denmark won 4-0. The police took action following disturbances on Lavendelstræde near Strøget that involved fans kicking cars and then angrily confronting arriving officers. The police then proceeded to arrest eight more fans on the morning following the game and another three on Saturday afternoon. And there were also issues at Parken after it emerged Polish fans had bought tickets to sit in the Danish section and were turned away at the gate. One Polish resident told DR that the police withdrew him from the queue, where he was waiting with his Danish family, and hit him. Meanwhile, some Danish fans ended up missing the first half due to the police's decision to segregate the crowd.
Tourist bus still missing
A Belgian tourist bus that went missing in Vesterbro on Tuesday evening was sighted in the north Zealand town of Kokkedal later on that night at around 4:30 am, according to Copenhagen Police. The police continue to appeal for witnesses – particularly anyone who rents out large buildings that could contain the vehicle. The white bus, which bears the registration number 1-DIA-309, has distinctive artwork on its side, but these can be easily peeled off. The police are confident it is still in Zealand.
READ MORE: Police call for public to help find missing tourist bus
Illum's Bolighus damaged in fire
The historic department store Illum's Bolighus on Strøget – not to be confused with the larger Illum store a further 100 metres down the walking street  – caught fire on Sunday morning. The blaze, which started on the roof where a summer party had taken place hours earlier, mainly affected stock on its top floor, including furniture from iconic brands such as Arne Jacobsen, Finn Juhl and Wegner. Illum's Bolighus estimates the damages will cost a two digit million kroner amount, but predicts it will only be closed for two days. Meanwhile, a fire broke out on Postgade in Høje-Taastrup on Sunday.