News
Denmark still top when it comes to supporting global development
---
This article is more than 6 years old.
Danes way ahead on the 2017 Commitment to Development Index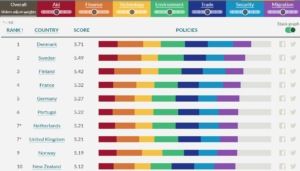 While many wealthy countries could do better at helping share global prosperity with developing nations, Denmark has once again been ranked the world leader at supporting international development.
Denmark topped the 2017 Commitment to Development Index – which scores 27 countries according to their contributions to aid, trade, finance, migration, environment, security, and technology transfer in the developing world.
"It pleases me that Denmark's development work has been ranked so well. Our leading position proves that we work hard for a freer, more wealthy and safe world," said the development minister, Ulla Tørnæs.
Published annually by the Center for Global Development (CGD), the report (here in English) ranked Denmark top in the categories of Aid and Security and gave the Danes an overall score of 5.71, well ahead of second placed Sweden.
READ MORE: Helping grassroots organisations to aid the world's humanitarian crises
Migrant migraines
In the other categories, Denmark ranked second in Trade and Finance, seventh in Tech, eighth in Environment and 14th in Migration. It was here that Denmark's biggest issue was found.
"Denmark ranks less well on migration than on the rest of the CDI components, which shows that even the leading CDI country can learn from other countries' policy designs. Although Denmark accepts a large share of asylum seekers, its borders are less open to other migrants," the report found.
"It hardly accepts students from developing countries (measured as countries eligible to receive ODA), giving it the lowest ratio of students from these countries out of the total of international students. Denmark is not a signatory to the Migration for Employment Convention or the Convention on the Treatment of Migrant Workers. It is rewarded, however, for its integration policies, which are less discriminatory than those of many other CDI countries."
Finland, France and Germany rounded out the top five, while Portugal, the Netherlands, the UK, Norway and New Zealand completed the top 10. Other notables included Spain (12), Italy (14), Canada (17), Australia (18), the US (23), Japan (26) and bottom-ranked South Korea (27).