News
Wednesday the rainiest day of the year in Denmark
---
This article is more than 6 years old.
The equivalent of 22 litres per square metre fell across the country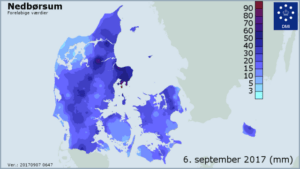 Just in case you were wondering, Wednesday September 6 was the rainiest day of the year so far in Denmark with the whole country receiving an average 22.3 mm.
It was the third worst day since the extreme rainfall of July 2011 (see video below), the weather that precipitated the deluges that have plagued the Danish summer ever since.
The amount of rainfall was the equivalent of 22 litres being poured onto every square metre in the county.
Over 60 mm in north Jutland
Not since Boxing Day in 2015 had the country received more rain, when the average was 26 mm.
Worst hit were the areas around Aarhus, Aalborg and Viborg in Jutland, while north Zealand saw some pretty intense rainfall as well.
As much as 60-70 mm of rain fell in Hobro in north Jutland, according to the DMI weather map.