News
AS Byatt scoops prestigious Danish literary prize
---
This article is more than 6 years old.
Next year, a British author will receive one of the most famous Danish literary awards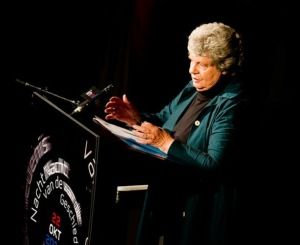 The committee behind the Hans Christian Andersen Literature Award has decided that the recipient for 2018 is the British author Dame Antonia Susan Byatt, better known as AS Byatt.
Byatt will receive the award at a ceremony in Odense. As well as a bronze sculpture by Stine Ring Hansen, she will also receive a cheque for 500,000 kroner and the Beauty of the Swan diploma.
Previously, the award has gone to literary notables such as Sir Salman Rushdie, JK Rowling, Paulo Coelho, Isabel Allende and, most recently, Haruki Murakami.
READ ALSO: Odense honours Haruki Murakami with Hans Christian Andersen award
Bringing Andersen to life
Upon announcing the award, the committee said: "The Hans Christian Andersen Literature Award 2018 is conferred to AS Byatt for her belief in the truth value of fairy tales, fables and poetry, along with her historical fiction that innovatively brings the works of Andersen to life."
Byatt has delighted readers all over the world for more than 50 years with novels that tend to be set in the 19th century. Typically, the focus of her stories are family relations and class differences.
Amongst her books are 'The Shadow of the Sun', 'The Game', 'The Virgin in the Garden', 'Still-Life', 'Babel Tower' and 'A Whistling Woman'.
Since 2010 the award has been presented every second year and is intended to go to someone whose work can be seen to have been influenced by Hans Christian Andersen's storytelling qualities or genre-based likeness.