News
Royals spearhead big Danish delegation to Japan
---
This article is more than 6 years old.
Denmark has significantly stepped up its focus on the Land of the Rising Sun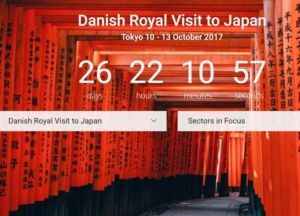 The Crown Prince Couple will team up with four ministers and a host of Danish companies for a massive Danish business and culture delegation heading to Japan from October 8-12.
The delegation will include the foreign minister, Anders Samuelsen, the culture minister, Mette Bock, the food minister Esben Lunde Larsen, and the health minister, Ellen Trane Nørby – as well as leaders from 55 Danish companies eyeing a stronger foothold in Japan.
READ MORE: Japanese Crown Prince on official visit to Denmark
Historic year
The expedition will focus on three central arenas in which Danish expertise stands strong: health, food and design.
"I'm really looking forward to the visit and the export push in Japan. The EU's forthcoming free trade deal with Japan is really good news for Danish exports," said Samuelsen, who will meet with his Japanese counterpart, Taro Kono.
"Japan is the third largest economy in the world with 127 million consumers. Danish companies are already firmly embedded in the market and a free trade agreement would only foster even more success."
The trip also coincides with Denmark and Japan celebrating 150 years of diplomatic relations in 2017, and the nations have already participated in a number of cultural and business events so far this year. Earlier this year, Japanese Crown Prince Naruhito visited Denmark.
The delegation has been arranged in co-operation with the confederation of Danish industry, Dansk Industri (DI), the confederation of Danish enterprise, Dansk Erhverv, and the Danish agriculture and food council, Landbrug & Fødevarer.