News
Back to the chopping board: how immigrants are finding employment in the street food industry
---
This article is more than 6 years old.
Skilled internationals are using their knowledge of their homeland's cuisine to turn to entrepreneurship as the Danish job market fails them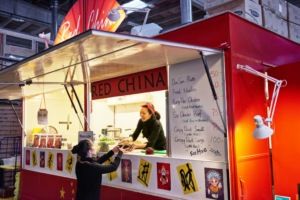 Love knows no borders, but the immigration office and labour markets do. Kanuengnuch Kosriwong, 44, from Thailand knows this well. After being in a long-distance relationship for five years with her Danish partner, she moved to Denmark in 2013 with a visa under the Green Card scheme.
The Green Card scheme, repealed last year in June, was a point-based, 18-month permit for skilled immigrants that allowed a person to live and work in Denmark if they could score at least 100 points according to criteria such as age, language skills, work experience and education.
With a PhD in molecular biology and seven years of experience as a researcher working in three different countries (Thailand, Australia and Laos), Kosriwong was sure she could get a job in Denmark. She was wrong.
But Kosriwong did not give up, and like many other expat-turned-entrepreneurs, she has found employment possibilities through her knowledge of her country's cuisine and is now herself an employer.
No Danish, no job
"I assumed a visa under the Green Card scheme meant they needed people in my field of expertise," said Kosriwong, who following her arrival sent at least two applications per week for a year before she got her first interview. "The job requirement was only for a bachelor's degree and I was overqualified for the position, but I didn't mind."
She didn't get the job though, as she had to follow Danish instructions. "Many said language, especially in my field, wouldn't be a barrier and that Denmark is very international. But my experience was completely different," recalled Kosriwong.
The job centre said it couldn't help her because she had a Green Card. "I joined various help groups for expats and tried to network more, but nothing worked," continued Kosriwong, who eventually returned to education to take a marketing course at the Aarhus Business Academy while working part-time at a Thai restaurant.
Deflated, then depressed
Neha Durugkar, 31, who came to Denmark from India on a spouse visa in 2013, has a similar story. Her husband, an engineer, works in the research and development department of a global wind energy company and did not want to give up his job. So, after living apart for a year, the couple decided that Durugkar would move to Denmark. She arrived in January, the peak of winter.
Durgukar has master's degrees in biochemistry and human resource management. Like Kosriwong, she too had seven years of work experience in labs, carrying out research and teaching undergraduates in India.
"My experience and degrees from India were not good enough to get a job here – and not even land a volunteer non-paid opportunity," said Durgukar. Again, language was the barrier. "Danish is a difficult language to pick up and I was unable to study it for long hours at a stretch every day."
Being alone for long hours affected her so severely she was diagnosed with clinical depression. "In India I had a good job and was always busy. Here, I was sitting at home all day waiting for my husband and had no-one to even share my problems with," recalled Durugkar, who eventually had to go back to India for three months to recover.
Outside the network
Kosriwong and Durugkar are not alone. A survey last year by International House North Denmark asked companies in north Jutland to list the problems that prevented them from hiring an international employee. Poor Danish language skills and problems integrating into the work culture topped the list. Other reasons included cumbersome paperwork and the difficulties encountered by spouses and family members in adapting to Danish life.
"Not speaking Danish is definitely a barrier as most Danish companies are small and prefer someone who speaks the local language," revealed Zikoh Mikhail Kouassi-Zessia, a business consultant at Copenhagen Business House, an institution run under the auspices of Copenhagen Municipality that supports startups and entrepreneurs in establishing businesses in Copenhagen.
"Also, networking is a big issue as people normally recommend someone for open positions. So, as a foreigner with no network and a limited knowledge of Danish, penetrating the labour market is not easy."
Salvation in the stove
When faced with such difficulties, many immigrants tend to seek self-employment – a trend confirmed by the 2013 Global Entrepreneurship Monitor report (surveying 69 countries), which confirms that immigrants worldwide engage in much higher entrepreneurial activity than the natives of a country.
The Danish data reflects a similar story. A study carried out in 2010 by Ethnic Business Promotion reported that the non-western immigrant population had almost twice as much entrepreneurial aptitude as ethnic Danes and western immigrants combined. The study also acknowledged that one of the reasons for the immigrants' propensity towards self-employment is the lack of jobs for them.
So, the reaction of Kosriwong and Durugkar when they heard there were spots to run small kitchens at Street Food was predictable: they grabbed them!
Kosriwong has now been running a Thai stall called Tuk Tuk at Aarhus Street Food for the past year, and the response has been so good that her husband quit his job to join her.
Durugkar runs an Indian kitchen, and within 10 months of starting up she opened another one at Aalborg Street Food. "It was easier to register a company than getting my job application through," she said.
Help from experts
Denmark is one of Europe's most entrepreneur-friendly countries. However, while registering a business is easy, running it successfully is a bit harder.
"The part that was most challenging – as both an immigrant and someone who doesn't speak the language – was figuring out all the technical aspects of running a business: such as tax, food and kitchen-related rules, handling the suppliers etc," contended 34-year-old Maria Elizabeth Zambrano Alvarez, who runs the Colombian-inspired vegan kitchen Latienda at Copenhagen Street Food.
She followed her Danish boyfriend to live in Denmark in 2014 before finding success with Latienda.
Life can be slightly easier if you are an EU citizen and have a Danish partner like 28-year-old Cindy Romor, who runs the Italian kitchen La Fattoria with her Danish boyfriend Johan Braad-Petersen at Copenhagen Street Food. For her, the language or culture was never an issue. "My partner being Danish is a big advantage. I concentrate on running the kitchen well, while he takes care of all the administrative work and paperwork," she enthused.
It is a problem that hasn't gone unnoticed. Several municipalities, along with organisations like International Center and the Start-Up Denmark scheme, run dedicated cells to help international entrepreneurs.
"We have experts who regularly advise international entrepreneurs on their business ideas; help them to develop a business plan, understand Danish laws and regulations, and get permits; and recommend them to appropriate authorities such as banks and lawyers," explained Lasse Frimand Jensen, a project leader at International House North Denmark.
Frailty in the paperwork
Durugkar, who started up as a small Indian food catering service, received guidance as well as initial support from the municipality to kickstart her food business. "We started by providing catering to events organised by the municipality. The food was appreciated and we started getting more orders and requests," she said.
Although the business is steady now, Durugkar has bigger uncertainties to manage. Her spouse visa depends on her husband's continued employment. "If he loses his job, we get six months to find another. And if he fails to get one, we will have to move back to India," she revealed.
Similarly, for Kosriwong who currently has a residency permit under the family reunion scheme, a divorce could adversely affect her business.
"Private matters affect businesses, and therefore one should start small and run it for a few years before throwing everything in," advises Kouassi-Zessia from Copenhagen Business Service.
"Selling a business is not an easy task. Furthermore, in order to get an entrepreneur visa you will need a very attractive business, and in most cases it is not given to a startup in the food and restaurant sector."
Second time lucky
For many, success doesn't come easily. "Fifty percent of all businesses fail within five years," warned Kouassi-Zessia.
"You need a very good idea that fits your competences and have a business-orientated mind. You also need some capital and mentors who can guide you well."
Jack Edosa, a 60-year-old originally from Nigeria, failed with his first business attempt.
"When I started my Caribbean restaurant in Aarhus, nobody served the cuisine in the city," he recalled. "However, I couldn't get a steady clientele as the food is exotic. To put all those authentic ingredients on the plate, the menu became expensive and the market very small. So it was difficult to sustain it."
Although he had years of experience as a Caribbean chef on cruise ships before coming to Denmark, marketing was not his forte and he eventually had to close down. However, Edosa got a second chance at Aarhus Street Food where he now successfully runs an Afro-Caribbean kitchen called Tatashe.
Finding a spot at Aarhus Street Food that "guaranteed foot traffic" meant good business from day one.
"The seed capital and cost of maintenance was much less at Street Food, so we could bring down the cost of the menu. A lower price also meant people were more open to tasting the food," said Edosa. He broke even within three months, and over the next year he has plans to expand to Aalborg, Viborg and Herning.
Diversity at their heart
Song Zhang, 35, had a sushi bar in Brønshøj before starting his Chinese stall, Red China, at Copenhagen Street Food in 2014. The chef admits that the running costs were so high that the sushi business never really generated a profit. "I may have been running a business, but it would have never generated even 50 percent of the profits that I make now," he said.
For many, places like Street Food, which began with diversity at its heart, are a perfect incubator. Additionally, the cost of starting up at Street Food is significantly less than going solo. "The place was designed for new entrepreneurs and we wanted the kitchens to be authentic and therefore run by people who come from where the food comes from," explained Britt Vorre, the administrative director at Aarhus Street Food.
Angela Cortegiano, who owns two stalls at Aarhus Street Food – pizza joint LaRossa and La Pasta Fresca – asserts that as a foreigner the biggest advantage was the ecosystem it provided.
"If you are not a local, you don't have many contacts. But this place works like a community. So, if I'm struggling to find a supplier or handyman, I can always ask my neighbour for a recommendation. Or, we can bulk buy ingredients to get a discount," she enthused.
And the landlords play their part too. "Of the 35 food stalls, 16 are owned by people with an immigrant background. Although we don't hand-hold each stall owner, we do provide them with basic guidelines on how to start up and a generic framework for how to run the business," explained Maja Tini Jensen, the head of PR and communications at Copenhagen Street Food.
Empowered employers
For many of the entrepreneurs, they've moved on from struggling to get interviews to conducting them, now in a position to employ workers who might also struggle with speaking Danish.
International students with almost non-existent Danish skills are increasingly finding jobs as part-time employees in these kitchens. Eleni Adamopoulou, 25, from Greece, who studies international and global history at Aarhus University, had a job as a house cleaner before getting work at a stall run by Durugkar.
"The hours did not clash with my classes. Also, the environment was more internationally friendly and I met more students like me – some of whom even became friends," said Adamopoulou.
Durugkar is happy. "Before, I used to contact the job centre looking for opportunities, and now they call me with candidate profiles to see if I have an opening. It feels good," she enthused.
Integrating the hard way!
These new entrepreneurs are also making small changes to integrate into Danish culture.
Durugkar serves a Madras beef curry, while Alvarez has added burgers to her Colombian menu. Zhang says he makes crisp Chinese rolls because "Danes don't like sticky food" while Romor puts a topping on the porchetta because she thinks "Danes like their meat with some sauce".
And most have also become proficient in Danish.