News
Sports News in Brief: Bahrain double, bad rain trouble
---
This article is more than 6 years old.
How about that for some lightning fast times at the Copenhagen Half Marathon?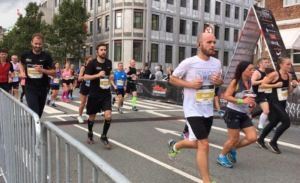 Bahraini runner Abraham Cheroben fell just 17 seconds short of a world record in winning the Copenhagen Half Marathon elite race on Sunday in a time of 58 minutes and 40 seconds.
It was the fastest time over the distance since 2011. Three runners broke the 59 minute barrier – the first time a trio have accomplished the feat.
Meanwhile, in the women's race, five runners recorded better times than the previous course record, with Bahrain's Eunice Chumba taking first place in a time of 1 hour, 6 minutes and 11 seconds.
Bad weather stops play
The elite and fun races started together, and a total 21,000 runners took part, of which 22.5 percent were foreign, representing 102 nations.
Lightning, thunder, heavy rain and hail led to the organisers eventually having to call off the race at 13:30, meaning that only 18,383 runners completed the course.
However, 99 percent of the runners were awarded times, as estimates were awarded to those on their last kilometre.
---
Denmark's Davis Cup run over
Denmark went down fighting in their Davis Cup Europe/Africa Group II third round showdown in Aarhus over the weekend, losing 3-1 to South Africa. Former Wimbledon doubles champ Frederik Nielsen won his opener in straight sets to keep Denmark tied going into Saturday, but then failed over his preferred discipline when he teamed up with Thomas Kromann, Shia LaBoeuf's body double as the Superbrat in 'Borg/McEnroe'. Finally, Nielsen's loss to South African number one Lloyd Harris on Sunday sealed the South Africans' victory. Denmark had previously beaten Morocco and Norway to reach the third round and will again compete in Group II next season.
Women could forfeit World Cup game
Time is running out for the Danish women's national team, as the players' union has failed to resolve their row with the DBU governing body over pay. The Euro 2017 runners-up failed to play a friendly against the Netherlands on Friday and are due to play Hungary on Tuesday in a 2019 World Cup qualifier. One of two offers turned down by the DBU over the weekend included an offer from the men's national side to give up 500,000 kroner of their agreement. The DBU remains adamant, claims the players' union, that the women are not its employees and does not want to negotiate.
Two killed in Randers rally crash
Two race officials aged 21 and 22 were killed when a rally car lost control in a one-day event in Randers in northeast Jutland on Saturday. The Danish Automobile Sports Federation described the crash as a "freak accident". The 73-year-old male driver and 22-year-old female co-pilot were taken to hospital with injuries described as non-life-threatening.
Prince Frederik re-elected to IOC
Crown Prince Frederik has been re-elected a member of the International Olympic Committee (IOC), a seat he has held since 2009. Along with International Badminton Federation president Poul Erik Høyer, the other Dane on the committee, he gets to vote on key matters such as the awarding of the right to host the Olympic Games.